Purchasing an RV is a big deal, and it requires a considerable sum of money. While some of the cheaper RVs will cost around $20,000 or less, some RVs cost hundreds of thousands and even a few million dollars. So if you are looking for the most lavish RVs money can buy because you want to have the coziest camping experience possible, or if you are just curious about what the most expensive RVs in the world are, we have the list for you.
A few reputable RV brands pride themselves on making the most luxurious RVs in the world. Most of these brands will have RVs that cost more than $1,000,000. Furthermore, we will list each company's most expensive RV, which should give you a good understanding of each company's range of prices.
Newmar Coach; King Aire; $1.5 million
Foretravel Motor Coach; FS605 Presidential; $1.4 million
Prevost; H3-45 VIP; $1.6 million
Newell Coach; P50; $2 million
Marchi Mobile; EleMMent Palazzo; $3 million
As you continue to read this article, we will briefly discuss what luxury RVs are and how much you can expect to spend on a luxury motorhome. Furthermore, we will provide some insight into each company. Finally, we will go over each of the company's most expensive RVs and describe some of their features.
What are Luxury RVs?
A luxury RV is defined by the quality of amenities and by the quality of the materials used to produce each RV. Luxury RVs are extremely expensive, which makes sense when you realize these expensive RVs have amenities you can not find in other RVs. For example, luxury RVs will include amenities like heated floors, dishwashers, residential-style appliances and furniture, and even a washer and dryer to clean your clothes. Furthermore, a luxury RV's interior and exterior design is fantastic and beautiful to look at.
How Much Do Luxury RVs Cost?
If you are looking to purchase a luxury RV, you need to be ready to shell out a lot of money. Depending on the type of RV you are looking for, luxury RVs can cost as little as $250,000 and up to $3,000,000. Furthermore, if you are looking to purchase a luxury RV, you should compare the features each brand prides itself on.
For example, Prevost sells some of the most expensive RVs in the world, and they are well known for designing and implementing the strongest and safest chassis for their class A motorhomes. On the other hand, all Foretravel Motorcoach's RVs are TRA certified with an emerald rating, which means Foretravel RVs are as green as possible.
Most Expensive Luxury RV Brands
While most RV brands will have one or two luxury options, the RV brands on this list only produce luxury RVs. The brands listed below all provide some of the highest quality RVs you can purchase. Each company prides itself on quality over quantity and has some of the most beautiful interior designs we have ever seen. As we said at the beginning of this article, these brands will be listed from least to most expensive.
Newmar is a luxury RV brand that sports some of the cheaper luxury options, but don't let their lower prices fool you. Newmar motorhomes are some of the most maneuverable class A motorhomes you can buy. This RV brand has developed what they call "Comfort Drive," which increases handling by having an intelligent steering system that makes micro-adjustments and adapts to your steering. These adjustments eliminate friction, creating a seal-straightening steering wheel that allows you to navigate through tight twists and turns on the road. Newmar implements their Comfort Drive technology on all of its RVs.
Newmar further increases maneuverability and handling for their luxury options by including Passive Steer Technology. The Passive Steer Technology further increases handling by allowing the rear wheel axle to turn in conjunction with the front wheels. This allows for even tighter turns while also reducing wear on the RVs tires.
King Aire is Newmar's most expensive RV and sports a 600-horsepower diesel engine to haul around this enormous motorhome. The exterior has an immaculate design coated in Newmar's patented Full-Paint Masterpiece finish, which guarantees the paint and graphics are protected from the elements for a lifetime.
The King Aire comes with a kitchen equipped with chrome-coated appliances. Beneath the quartz countertop are the induction stovetop and oven. Furthermore, the King Aire sports ample storage in the kitchen cabinets, made from your choice of oak or maple.
A small restroom with a toilet, sink, and dry storage is past the kitchen. This bathroom is conveniently placed next to a lounge area that provides a ton of walking room and ample seating options. Further into the RV, you will find the main bedroom with a king-sized bed, a large flatscreen tv, and an electric fireplace. Furthermore, this luxurious RV's very back is a massive bathroom with an equally massive shower. If all of that was not enough, the floor of the King Aire is heated for added comfort.
Foretravel Motorcoach has been in the RV industry for over 50 years and has a reputation for producing the greenest luxury motorhomes. All of Foretravel's motorhomes have the emerald rating from the TRA Certification, which is a company that evaluates how clean an RV runs, with emerald behind the highest rating. This means that Foretravel motorhomes produce very little emissions and effectively recycle their resources to protect the environment better. Furthermore, Foretravel Motorcoach uses the K4 605 chassis from spartan, which is one of the strongest and most durable chassis on the market.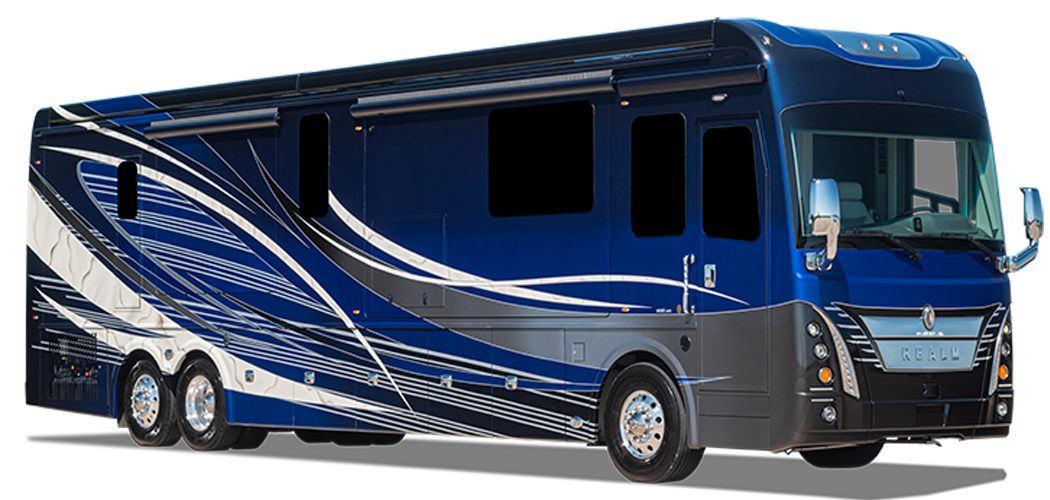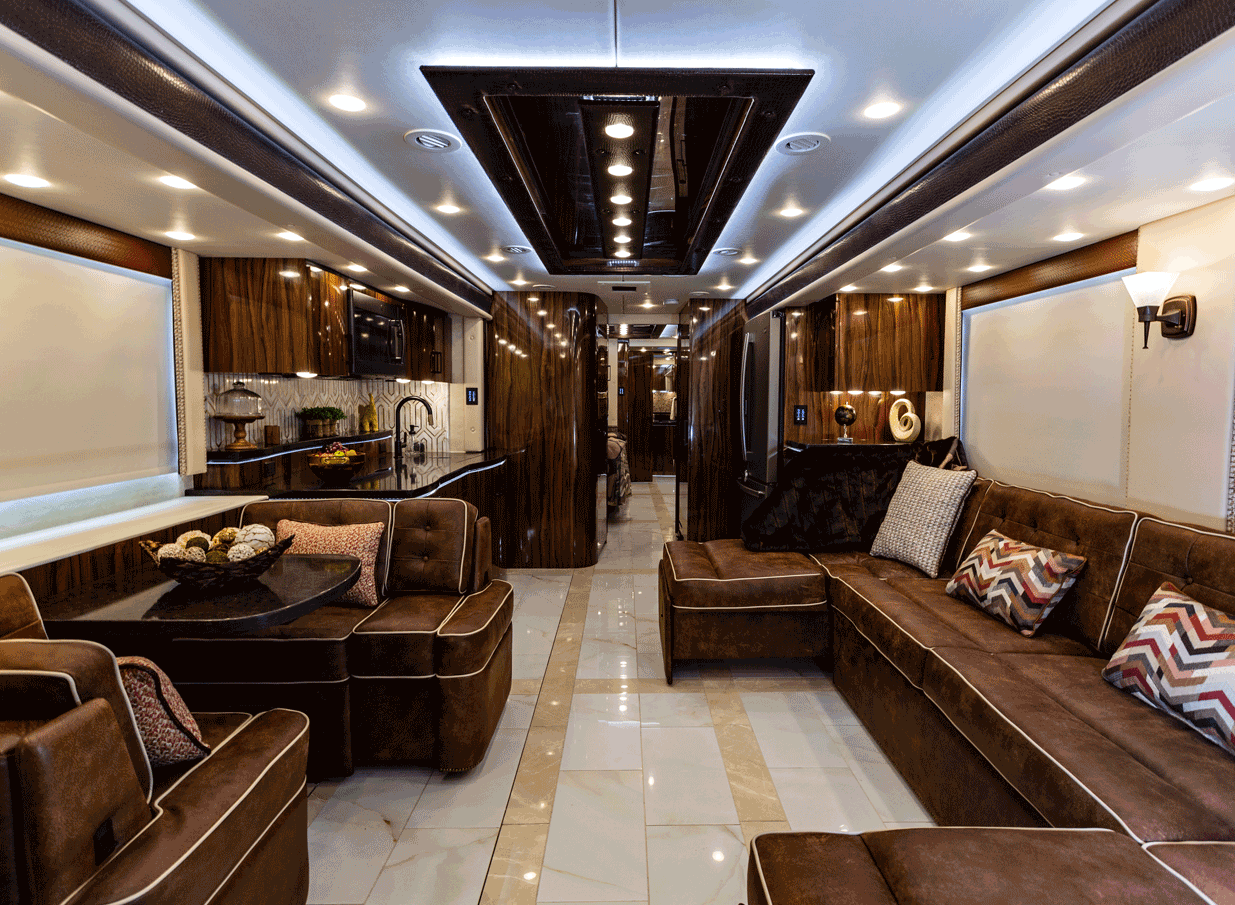 The most expensive RV that Foretravel Motorcoach sells is the FS605 Presidential series which will cost you around $1.4 million. However, the FS605 has a ton of options for paint color and graphics, which are sealed with a protective coating to help preserve its fine details. Furthermore, The FS605 sports a steel cabin over aluminum for added stability in the case of an accident.
A motorized king bed, beautiful laminate cabinets, and two master vanities are included in this luxurious motorhome. You can find a complete bathroom with a washer, dryer, bespoke shower, and a large closet at the back of this luxurious property. After passing through the bathroom, you'll reach the huge bedroom, which features its own motorized king-size bed. The kitchen and the living room share the same space.
Furthermore, the FS605 has one of the best RV batteries on the market, capable of powering all of the electronics in the RV for over 50 hours. Finally, this luxury motorhome sports air disc brakes on all of its wheels for increased handling and a hydronic heating system that is perfect for camping in cold weather.
Prevost is another leading competitor in the luxury RV market. Prevost has been in the RV industry since the very beginning in 1924 and hit its stride in the 1950s when Prevost first started producing luxury motorhomes. Prevost produces the ultimate motorhomes, which all sport the strongest and most durable chassis on the market. Prevost's chassis is fully integrated into their designs, with thick steel beams lining all of the walls and slide-outs. This makes Prevost motorhomes the safest on the market.

Furthermore, this chassis design also provides a smoother and quieter ride thanks to the increased stability of the steel beams that line the walls. Due to its unique chassis, Prevost can produce motorhomes with larger slide-outs that support heavier furniture and amenities.
When it comes to Prevost Motorhomes, the most expensive option is the H3-45 VIP, which will cost around $1.6 million. This motorhome is equipped with Prevost's patented chassis, which allows it to be one of the largest motorhomes on the market. The H3-45 VIP is nearly 14 feet tall and has an interior height of over 7 feet tall. Furthermore, this luxurious RV has over 500 cubic feet of living space once the slide-outs are extended.
Inside this RV, you will find some of the most beautiful furnishings made with the highest quality of materials. The kitchen is small but has everything you could want, including chrome-plated appliances, a hideable oven and stove top, a deep basin sink, and an incredible amount of storage space.
The H3-45 VIP comes equipped with two bathrooms, the first one is located towards the front of the RV next to the kitchen and lounge area, and the second is located in the main bedroom at the rear of the RV.
Newell is yet another leading competitor in the luxury RV market. Newell was founded over 50 years ago. Newell has a reputation for being one of the safest brands while also allowing customers to custom-build their RV. Newell can do this due to their own custom-engineered chassis, which is hand-built for every motorhome they manufacture. Furthermore, Newell's custom chassis allows for some of the best handling and maneuverability found in class A motorhomes.
When it comes to Newell RVs, the P50 is their most expensive option and possibly their best motorhome. The P50 will cost around $2 million and is packed with high-quality and luxurious amenities. For example, the cockpit of the P50 is possibly the most impressive we have seen. Both pilot seats are fully adjustable while heated, cooled, vented, and made with genuine leather. But that's only the tip of the iceberg.
The Newell P50 sports four slide-outs that can be customized to fit your needs. One of the slide-outs is the main bedroom, which is equipped with a king-sized bed and a ton of walk and storage rooms. Furthermore, the kitchen is lavish and has quartz countertops, chrome appliances, a full-sized residential fridge, oven, stovetop, and more.
Next to the kitchen is the dinette and lounge area. The lounge area can have three flat screen TVs installed for additional viewing angles. Inside the lounge are a number of seating options, including a comfortable couch and reclining chairs. Furthermore, both the driver and passenger seats can spin around, allowing for more seating space if needed.
There are two bathrooms in this RV. The first one is located in the middle of the RV next to the gorgeous dinette. The second bathroom is at the vehicle's rear, past the main bedroom. This bathroom is gigantic, with ample storage space, a massive shower, and two sinks.
Marchi Mobile is the Ferrari or Bugatti of recreational vehicles. Marchi Mobile prides itself on its engineers' tedious process of producing the highest-quality products. The fantastic craftsmanship of their engineers, paired with the latest production technologies, guarantees each RV produced by this brand is made with the highest precision and quality possible.
Thanks to Professor Luigi Colani and his stunning designs, Marchi Mobile has manufactured the most expensive RV on the market today. Costing over $3 million, the EleMMent Palazzo is a mansion on wheels. Marchi Mobile has brought together elements from yachting, aviation, and motorsports to produce this magnificent motorhome. The exterior is made of high-performance carbon fiber, which provides excellent durability while also remaining reasonably lightweight.
The Palazzo has been called the mobile mansion, and it is equipped with a master bedroom with a massive lounge area. Furthermore, the linens are made of the highest quality of materials from Italy, and the furnishings are extremely comfortable and come with a ton of storage space.
This motorhome has a fantastic amount of living space and was built for maximum comfortability. Furthermore, you will find a massive 12-foot couch area, a 50-inch flat screen tv, and a delightful wine cabinet. If that doesn't impress you, then the inclusion of a beautiful spa area should.
One of the Palazzo's most distinguishing features is the inclusion of a Sky Lounge and expandable roof deck. This Sky Lounge has an expandable roof that reveals a large couch and table that provides a 360-degree view. Another distinguishing feature of the Palazzo is the cockpit, which sits eight feet off the ground and has a unique look.
Final Thoughts
Nothing is more expensive than the Palazzo from Marchi Mobile when it comes to the most expensive RV brand. With its $3 million price tag, you can expect to live lavishly in this motorhome. However, while the Palazzo is the most expensive, they are seldom made and are not the best choice for everyone. Marchi Mobile produces fantastic RVs, but their luxury motorhome competitors can give them a run for their money.