If you have been searching for the perfect RV for you and your family, then you have probably seen the wide variety of RVs that you can choose from. Of course, there will be a perfect RV for your needs, from Class A Motorhomes to Pop-Up Campers. However, one of the less known RVs is the Toy Hauler. While toy haulers are uncommon, they are very versatile and can be very useful in the right hands. But the question still stands, what is a Toy Hauler?
A Toy Hauler is a type of RV that combines the living area of your RV with a garage or designated area to haul your "toys". "Toys" refer to extra vehicles like ATVs, motorcycles, kayaks, and more. Before toy haulers, most RV hobbyists needed to tow an additional small trailer behind their RV to bring their fun vehicles. While this is still an option, you need to know that towing two trailers is illegal in over half of the states today. However, toy haulers allow you to transport your toy vehicles safely and without legal concerns.
As you continue to read this article, we will describe what a toy hauler is in great detail and list the pros and cons of owning one. Furthermore, we will provide six detailed examples which will show you what to look for in a toy hauler.
What is a Toy Hauler?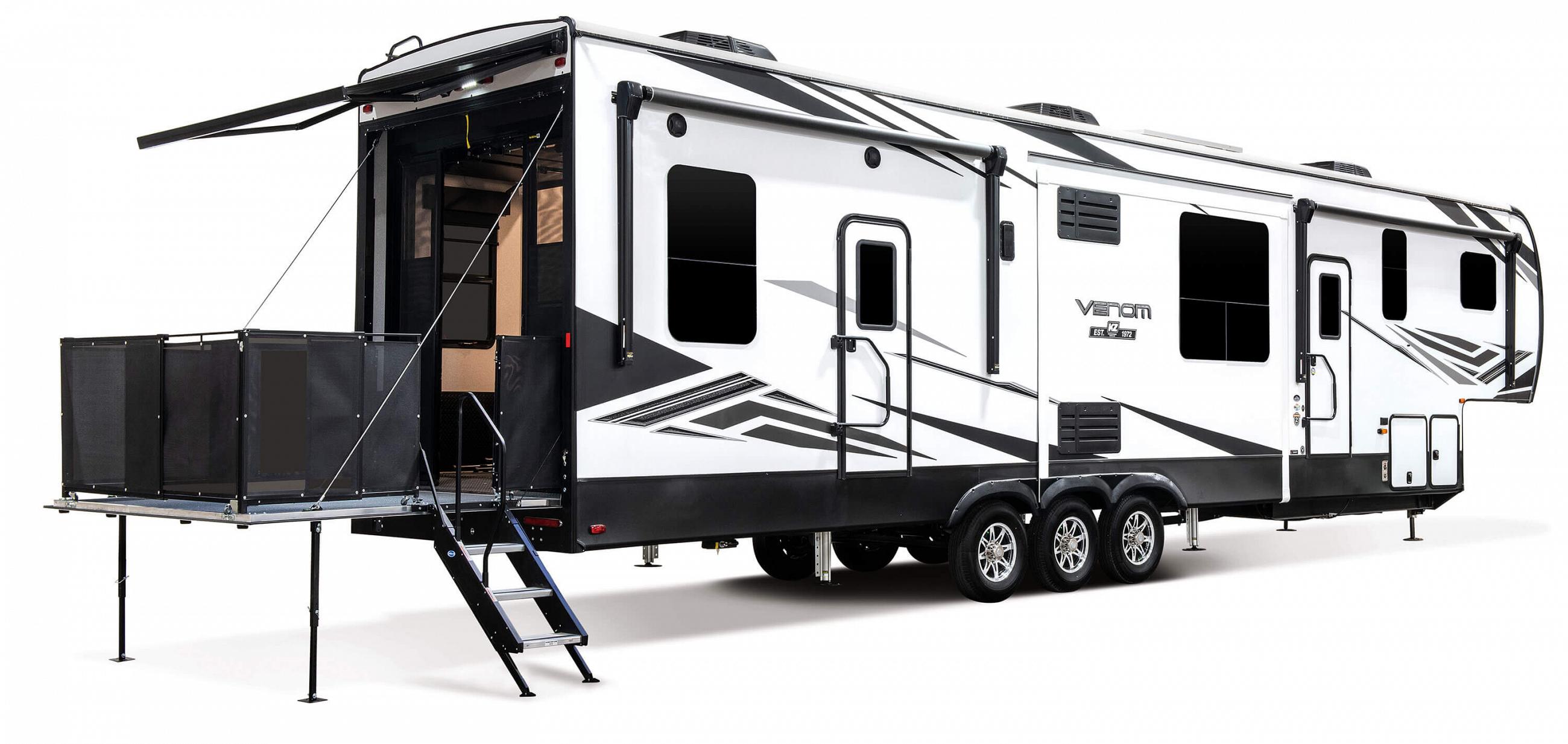 If you have ever wished that your RV had a garage attached to its back, then look no further. Toy Haulers are fantastic RVs with a garage space attached to their back. In some cases, this garage space is where you can park any of your toy vehicles like a motorcycle, a kayak, ATVs, or even small cars.
In order to park your toys in a toy hauler, you will need to open the rear door. Most toy haulers will have a button or switch inside the camper, while others might provide you with a remote or keychain accessory. In addition, most toy haulers will have a ramp that will come down so you can quickly move your toys into the hauler. However, some toy haulers have a lift that you need to use to store your toys.
There are many types of toy haulers, most of them are trailers, but some motorhomes are classified as toy haulers. Most toy haulers will have the garage connected to the living area, while some others will have the garage closed off completely. Furthermore, some toy haulers are meant to bring along a lot of toys at the cost of a smaller living area. At the same time, there are toy haulers that do the complete opposite.
What are the Advantages of a Toy Hauler?
Now that you know what a toy hauler is, let's get into some pros and cons to help you figure out if a toy hauler is right for you. First off, we will cover some of the advantages of owning a toy hauler.
Heavy Duty Construction: Toy Haulers are meant to lug around all of your extra toy vehicles and extra cargo. Because of this, the axles and frame of a toy hauler are much sturdier than other RVs. This extra sturdiness allows for the toy hauler to have a higher weight rating, and the floors and ramp are reinforced to support the weight of your toys.
Extra Space: One of the best benefits of toy haulers is the extra room. While this extra room is usually used for your toys, you can opt to customize the garage to make even more living space. This makes toy haulers a good option for large families.
Versatility: Toy Haulers are a very versatile type of RV. You can use the extra space provided by the garage for many different things. For example, if the weather is excellent, you lower the ramp and use the garage as a makeshift porch. The sky's the limit when it comes to extra space. You just need to be a little creative.
What are the Disadvantages of a Toy Hauler?
While toy haulers have a few good benefits, they are far from perfect and have a few noticeable drawbacks.
Can Be Expensive: Because toy haulers are built to carry heavy cargo, they can be pretty expensive when compared to other RVs with similar or more living space. Furthermore, motorhomes that are toy haulers can be extremely expensive.
Insulation Issues: Usually, the garage section of a toy hauler is not built with insulation. This can cause issues when it comes to keeping the inside of your RV at the perfect temperature. Furthermore, the garage section tends to get extremely hot or cold, depending on weather conditions due to the lack of insulation. However, toy haulers separate the garage section from the rest of the RV, which will prevent the living space from having temperature fluctuations.
Need a Heavy-Duty Truck: Unless you plan to purchase a motorhome toy hauler, you will need to have a heavy-duty truck to tow a toy hauler. Because toy haulers are built to store heavy cargo, the frames and reinforced floors cause toy haulers to be very heavy. Furthermore, this immense weight will reduce gas mileage.
Toy Haulers are Huge: Toy Haulers are usually very large, limiting where you can go. Most campgrounds have a limit on RV size and/or weight in their park, which means they can turn you away if your toy hauler is too big. Furthermore, toy haulers don't do too well off-road.
Gas Fumes: Storing ATVs, motorcycles, and other gas-powered vehicles can cause some gas fumes to circulate throughout the camper. Usually, this leaves a lingering smell, but this can be harmful in rare and worst circumstances. However, all toy haulers will have a small ventilation system in the garage to help circulate these fumes outside. Some toy haulers will also have a vapor wall to separate the garage and living area.
After reading the pros and cons we have described, if toy haulers don't sound worth it to you, there are other options for hauling your toys. For example, instead of a toy hauler, go with a traditional motorhome and tow around a flat trailer. The flat trailer will have enough room for your dirtbikes, ATVs, and other toy vehicles.
What are Some Good Toy Hauler Examples?
Now that you understand what a toy hauler is and the pros and cons you will experience if you purchase one, it's time we get into the good stuff. Below will be six fantastic examples of toy haulers. The list below will be ordered from most to least expensive and should be used as examples to help you shop for the right toy hauler for you. Furthermore, we will be focusing on the garage portion of the toy haulers on our list.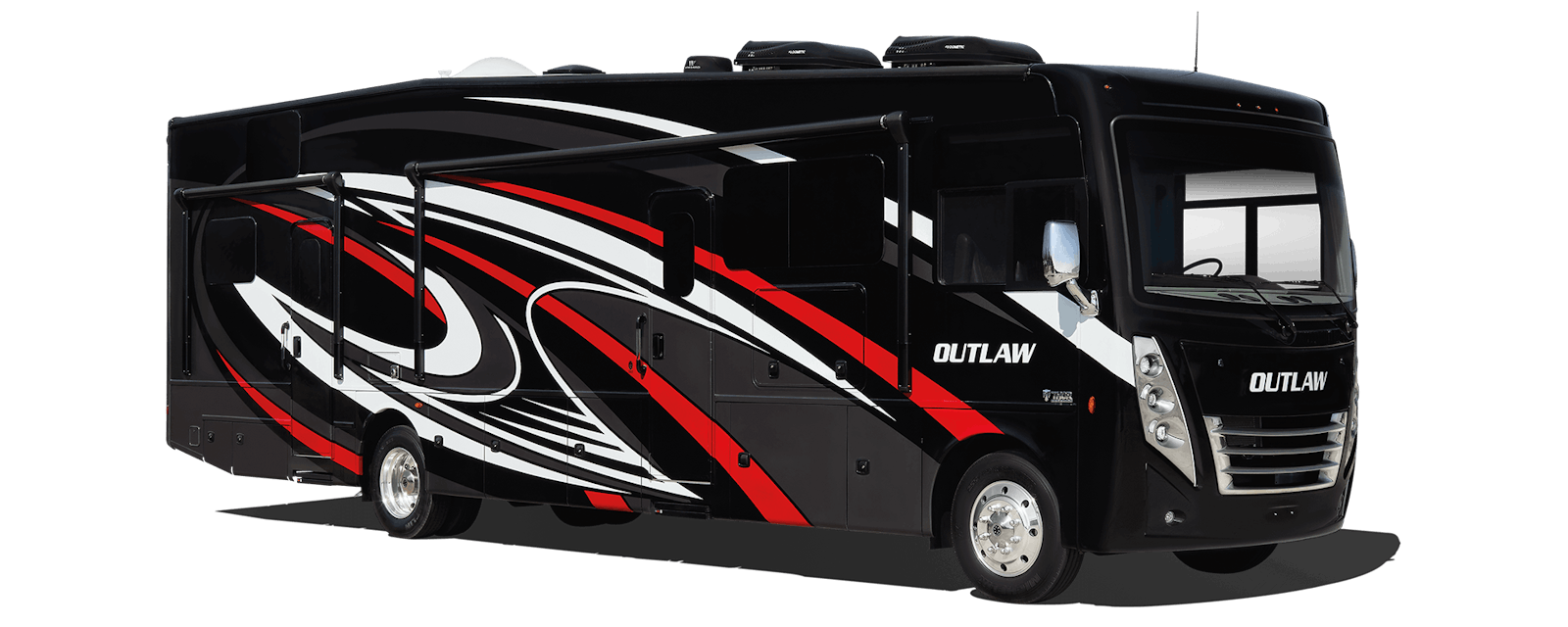 Let's start with one of the big guys. The Thor Outlaw 38 KB is a mansion on wheels and is a one-of-a-kind RV. Typical of class A motorhomes, the Thor Outlaw 38 KB is by far the most expensive on our list, with an MSRP starting around $260,000. However, this huge price tag ensures that this RV is absolutely packed to the brim with luxurious features, including enough sleeping space to fit up to 10 people.

First off, the Thor Outlaw 38 KB is built on a 26,000-pound chassis, giving it an immense carry weight of 15,000 pounds and a towing capacity of 8,000 pounds. Furthermore, the garage is 10′ by 8′ and has tons of room. Inside the garage, you have two couches that fold up into the walls when you have your toys in the RV. These couches can also fold out and make two additional beds. Also within the garage is a cabinet where you can keep tools to repair your toys. Directly above the garage is an additional bunk for a queen-size bed. Finally, the ramp can be used as an outdoor porch.
Taking a step down from the motorhomes is the first towable on this list. The Keystone Fuzion 424 is a beautiful fifth-wheel RV and is one of the best-looking fifth wheels we have ever seen. With an MSRP of around $135,000, this RV is also packed with luxury amenities and tons of storage space to boot. One of our favorite features of this toy hauler is the side patio which extends from one of the side entrances on the RV and comes equipped with an outdoor TV.
The garage is huge and slightly bigger than the Thor Outlaw 38 KB garage. The garage in the Keystone Fuzion is 13′ by 8′, which is plenty of room to store all of your toys. Furthermore, in the garage are two beds that descend from the ceiling, and you can fold up the bottom beds to make a dinette area. Moreover, if the side patio isn't enough, the ramp can also be used as a second patio.
The second fifth wheeler on our list is the EXPLORE XLR Nitro, which is simply stunning. With an MSRP of around $115,000, this toy hauler is filled with fantastic amenities and a ton of living space. Some of our favorite features of the EXPLORE XLR Nitro are the 100% weather-proof ramp and patio deck and the 50,000 BTU fireplace in the living room.
The garage is a bit smaller than the Fuzion 424, sitting at 11′ by 8′. However, this is still plenty of space for some of your favorite toys. Like the other toy hauler garages on this list, this garage comes equipped with two beds that descend from the ceiling. The bottom bunk can be transformed into two couches or be folded down from the ceiling to make more room for taller toys. Furthermore, the EXPLORE XLR Nitro comes with an optional three-season door. Moreover, there is a half bathroom and washer and dryer hookups inside the garage.
Next up is the first travel trailer toy hauler on our list, and this model is absolutely fantastic for its price tag. With an MSRP of around $58,000, this toy hauler has everything you need for your camping trip. One of our favorite aspects of this toy hauler is the incredible amount of space in the living area. There is tons of room for multiple people to move around without feeling cramped.
The garage in the STG 3313 is 13′ by 6′, which is nearly as large as the Fuzion 424 and still has plenty of space for your toys. The STG 3313 has a two-bed system in the garage like the Fuzion 424, which descends from the ceiling while holding down a switch. However, instead of the bottom bed turning into a dinette, it turns into two comfortable couches which extend the ramp patio for more room. Furthermore, the bottom bed can fold down from the ceiling to make room for taller toys.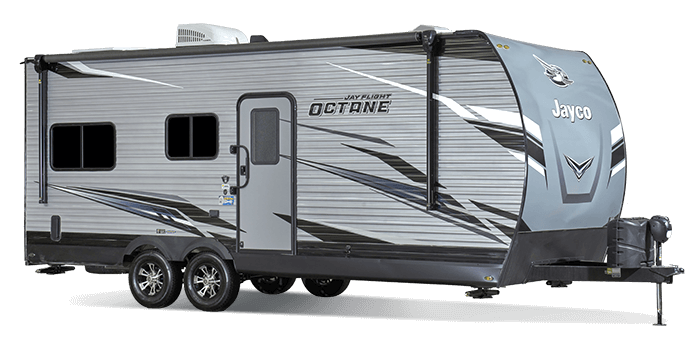 The Jayco Octane 222 is one of the smaller toy haulers on our list and is about 26 feet long. However, the Jayco Octane 222 is also one of the cheapest. With an MSRP of around $37,000. Our favorite feature on the Jayco Octane 222 is the rear patio. The patio comes with a screen enclosure that you can unfold and use for many different things.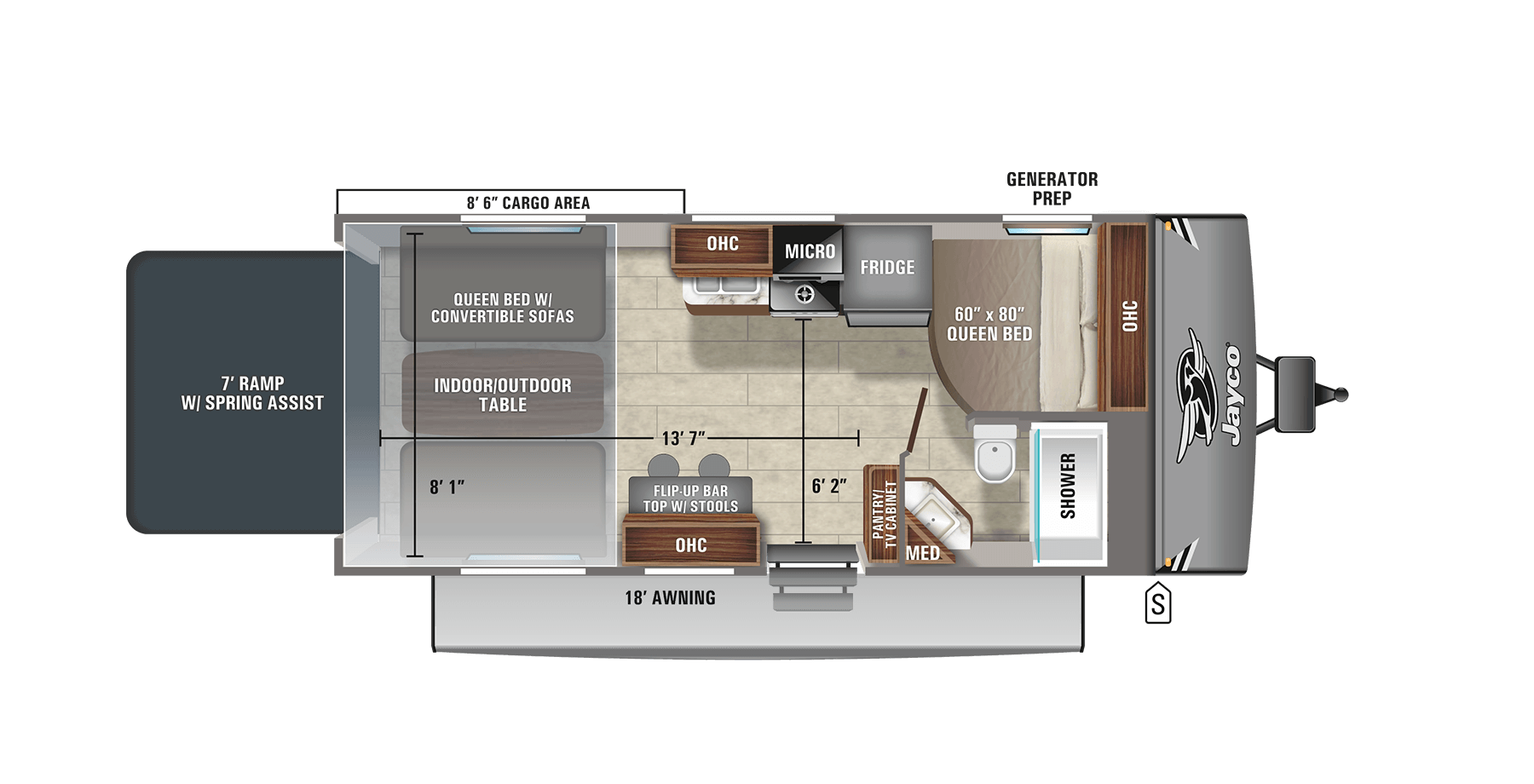 The garage may look small at first glance, but a large portion of this toy hauler can be used to store your ATVs and other toys because there are tie-downs all the way up to the main bedroom. This technically makes this garage the biggest at 13′ by 8′. However, some of the garage shares space as the kitchen and bathroom. This toy hauler has four beds, one that descends from the ceiling in the garage, two that hang from the garage walls, and the last bed in the main bedroom. The hanging beds can descend and fold out into bunks where you can place a table to make a dinette area.
Last but not least is the Rockwood Geo Pro G19FBTH. This toy hauler is the smallest on our list and is best suited for one or two people. However, this toy hauler has the best off-road performance out of the toy haulers on our list, thanks to the air ride system, which supports the suspension. Our favorite feature on this toy hauler is the 190-watt roof-mounted solar panel, perfect for charging your RV batteries without relying on your truck.
The garage is relatively small and can only fit one or two ATVs at most. This is because the Rockwood Geo Pro G19FBTH is very small, and most of the "garage space" is taken up by other amenities. However, suppose you are planning a solo camping trip or plan on going with your significant other, in that case, this is easily the best toy hauler for you.
Final Thoughts
Toy Haulers are a revolutionary type of RV that sacrifices some living space for a garage. The garage allows you to bring your ATVs, motorcycles, side-by-sides, and anything else you can squeeze in there. However, even though the garage takes up some living space, every toy hauler garage on our list has additional beds for more people to sleep in. As this article ends, we hope that our list provided you with all of the information you need to know about toy haulers.