When shopping around for the perfect travel trailer, there is a good chance that you have come across the term "bunkhouse travel trailer" or "bunkhouse RV." The term might seem confusing at first, but the explanation is straightforward.
A bunkhouse RV or a bunkhouse travel trailer refers to specific RVs with floor plans that support two or more bunk beds. Bunkhouse travel trailers and RVs allow many more people to sleep in the RV. When it comes to bunkhouse RVs, you can have up to four bunk beds on specific floor plans, which means you can have up to eight more people sleeping in your RV! Including extra bunk beds makes bunkhouse RVs fantastic for extra-large families who like to go on regular camping trips.
As you continue to read this article, we will discuss what kind of RVs can be a bunkhouse RV and how many beds you can have in a bunkhouse. Furthermore, we will provide some pros and cons, which will help you decide if you need a bunkhouse travel trailer. Finally, we will provide you with a list of example bunkhouse RVs to show you what you should be looking for.
What Types of RVs can be Bunkhouses?
The different types of RVs that can have bunkhouse floor plans include:
Class A Motorhomes
Class C Motorhomes
Travel Trailers
5th Wheels
However, when it comes to bunkhouse RVs, you have RVs that have a few bunk beds, and you have true bunkhouse RVs. The primary difference between both types of bunkhouse RVs is the layout and the location of the extra bunk beds. True bunkhouse RVs will be separated into three sections;
The master bedroom, which is where the parents or the owner will usually sleep
The living area, which contains the kitchen, lounge, and dinette
The bunkhouse room, which contains the additional bunk beds
Most RVs with a true bunkhouse floor plan will be travel trailers or 5th wheels. You can also find these floor plans in motorhomes, but they are far less common.
The other type of bunkhouse floor plan, or the false bunkhouse, will still contain at least two bunk beds. However, their placement is not ideal. Instead of having a dedicated room for the additional bunk beds, they are installed somewhere in the living area. While this saves some space and can be an excellent spot to keep an eye on your kids while they are sleeping, the location of the bunk beds can cause some issues.
For example, if you are an early riser and want to use the kitchen to make coffee, some breakfast, or go outside, you need to pass by the bunk beds in the living area. This is because the noise you make when doing these things can wake your sleeping friends or family members. Having the bunk beds in their dedicated area can eliminate the chances of you waking them up accidentally.
The false bunkhouse floor plans can be found in all four types of RVs, but they are more commonly seen in class A and class C motorhomes.
How Many Beds are in Bunkhouse RVs?
Depending on the floor plan's layout, the bunkhouse room will consist of one or two additional bunk beds. These bunk beds are usually located in the rear for true bunkhouse RVs and will be installed on slide-outs. The slide-outs will provide extra walking room once you have set up camp. A bunkhouse with one bunk bed is called a double bunk, while a bunkhouse with two bunk beds is called a quad bunk.
A bunkhouse RV will have three or four bunk beds in some cases. These RVs will have the extra bunk beds installed in the living area while also having a dedicated bunkhouse room. This brings the maximum number of beds in a bunkhouse to nine, eight beds provided by the four possible bunk beds, and one in the master bedroom.
One of the cool innovations of bunkhouses is that you can fold some of the bunk beds into couches to provide comfortable seating arrangements.
How Big are RV Bunk Beds?
The standard mattress size for bunk beds is 40 inches by 75 inches, which means the length of a bunk bed is about 6'2″. This makes bunk beds a good sleeping arrangement for children and people who are shorter than average.
Bunk beds on RVs are surrounded by three walls that touch the bunk bed frame at all times. This will limit the number of people who can use RV bunk beds drastically. For example, the average height in the United States is between 5'4″ and 5'9″, which means you can use these bunk beds, but you will feel a little cramped. It is nearly impossible for anyone to sleep in one of these bunk beds who is taller than 5'10". While you may fit in the bunk bed, your head and feet will have little or no room to move around while you are sleeping.
What are Some Other Features Found in Bunkhouse Floorplans?
The types of features you get included with a bunkhouse RV really depend on the type of RV. For a motorhome bunkhouse RV, you will only get a few bunk beds in the living area next to the master bedroom. However, there are numerous add-ons to squeeze into the bunkhouse room when it comes to true bunkhouses.
For example, many bunkhouse rooms will come with a half bath, including a toilet and a sink. Furthermore, bunkhouse rooms are usually packed with personal storage. In a bunkhouse room, you will find drawers and small cabinets under and around each bed. Furthermore, you can find much modern quality of life improvements like personal USB charging outlets and even individual TV screens on each bunk. Moreover, with up to four beds in a small room, there is little to no privacy. Still, manufacturers will often include curtains for each bunk, which alleviates this issue.
Pros and Cons of a Bunkhouse RV
Deciding whether you want a bunkhouse RV can be a little challenging. However, we have come up with some pros and cons which can help you decide.
Pros
Bunkhouse RVs will have plenty of room for extra beds, allowing large families to go camping in a single vehicle.
True bunkhouse RVs will have the bunk room separated from the master bedroom. This can give the parents some quiet time away from the kids.
The bunkhouse room helps keep the kids' toys in one area.
You don't have to use the dinette table as a spare bed.
The bunkhouse room will have at least one tv to provide some entertainment for the kids if it's raining outside.
Cons
The extra length can make hauling a travel trailer or 5th wheel more difficult.
Bunk beds are really only suitable for children. Adults and teenagers will be too tall to sleep comfortably.
Bunkhouse room becomes useless once your kids get too big or move out.
Bunkhouse RVs are more expensive.
The bunkhouse room does not provide much privacy for older kids, even with the curtains.
What are Some Good Bunkhouse Floor Plans?
After reading the pros and cons of owning a bunkhouse, you might want to look at some bunkhouse floor plans. Luckily, we have gathered a list of our favorite bunkhouse floor plans for every type of RV.
Class A Motorhome Bunkhouse
The Georgetown 3 is a popular class A motorhome produced by Forest River. The Georgetown model has numerous floorplans, but the one we are looking at today is the 33B3. Unfortunately, this model only comes with one bunk bed located just a few feet away from the king-sized bed, which is typical of bunkhouse motorhomes. However, the living area is lovely and has two recliner seats and a gorgeous dinette.
The kitchen might look small, but it has everything you need, including a large fridge with ample storage space, a residential sink, and a three-burner stovetop and oven. Furthermore, you can collapse the dinette table into a small bed if you need one extra bed.
The next class A bunkhouse motorhome is the Sunstar 31B. This motorhome is a little smaller than the Georgetown 3, but it has a better floor plan, in our opinion. The bunk bed is located a few feet from the main bed like the other bunkhouse motorhomes on this list. However, the Winnebago Sunstar has a considerably larger bathroom than the Georgetown.
The kitchen has all of the same amenities like a residential-sized sink, three-burner stove, oven, microwave, and refrigerator. However, the refrigerator and storage space in the kitchen is very small. Furthermore, there is a dinette and sofa which are incredibly comfortable. Moreover, the sofa can unfold into an extra bed.

The last class A bunkhouse motorhome on this list is the Thor A.C.E. 32.3, which is possibly our favorite out of the three. The bunk beds are located only a couple of feet from the main bed, like the other motorhomes on this list. However, this particular model stands out from the rest in its interior design.
The floor is gorgeous and is made of laminated wood, and the cabinets are made of natural wood. The kitchen is small but it has everything you need. The sink is massive, the stovetop, oven, and microwave are beautifully compact, and the countertops are stunning. The fridge is smaller, but that's not a huge deal-breaker. Finally, the dinette and sofa can fold into two additional beds, bringing you a total of five beds.
Class C Bunkhouse Motorhomes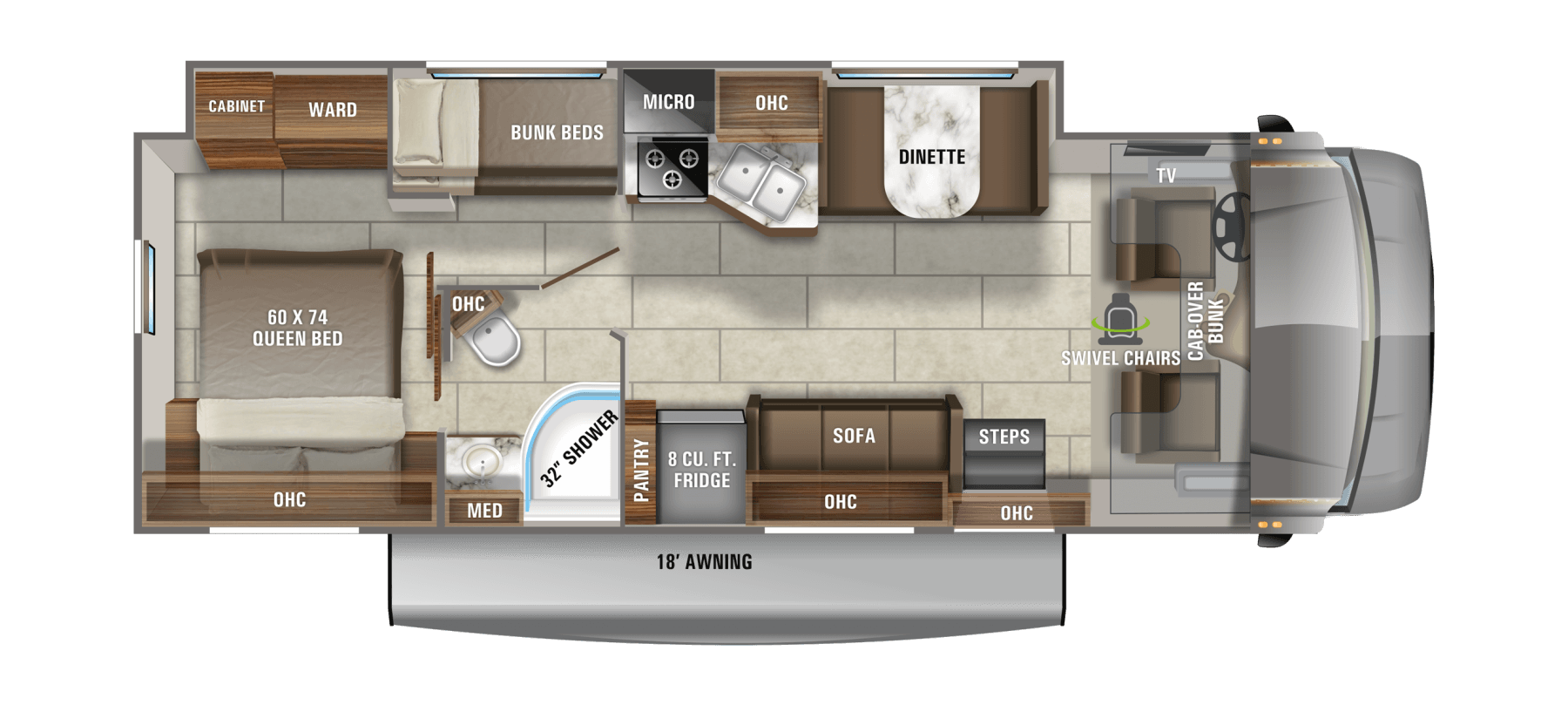 The Redhawk is Jayco's most popular class C motorhome, which has a few different floor plans, and one of them is a bunkhouse. The Jayco Redhawk 31F is nearly identical to the Thor A.C.E. 32.3 except for a few things. The two most significant differences are that the fridge is larger, and the sofa and dinette table does not fold into additional beds.
However, the cab-over can have an additional bed installed, which makes up for that. The bunk beds are super comfy but are only a couple of feet away from the main bed.

The Thor Magnitude is a fantastic class C motorhome. All of its floor plans are spacious, packed with amenities, and have beautiful interiors. The RS36 is the bunkhouse floor plan for this model and has a surprising amount of walking space. In addition, this bunkhouse RV has a larger kitchen, which sports a full-sized fridge and a large two-basin sink.
The bunk beds are a little small. Only being 26″ wide makes them only suitable for children. However, their small size is why this RV has a ton of walking room. Furthermore, the cab-over is a much larger bed, which is longer and twice as wide.
Thor makes another appearance on this list with their Chateau model. The Chateau is very similar to the Magnitude, except it is smaller. Because of this, the bunk beds have gotten even smaller, being only 72 inches long. However, these bunk beds have small TVs and privacy curtains for each bunk. Furthermore, the cab-over bed is even bigger than the Magnitude.
The kitchen is identical, but it provides a little more counter space. The bathroom is also slightly larger and has two doors that connect the bathroom to the living area and the main bedroom.
Bunkhouse Travel Trailers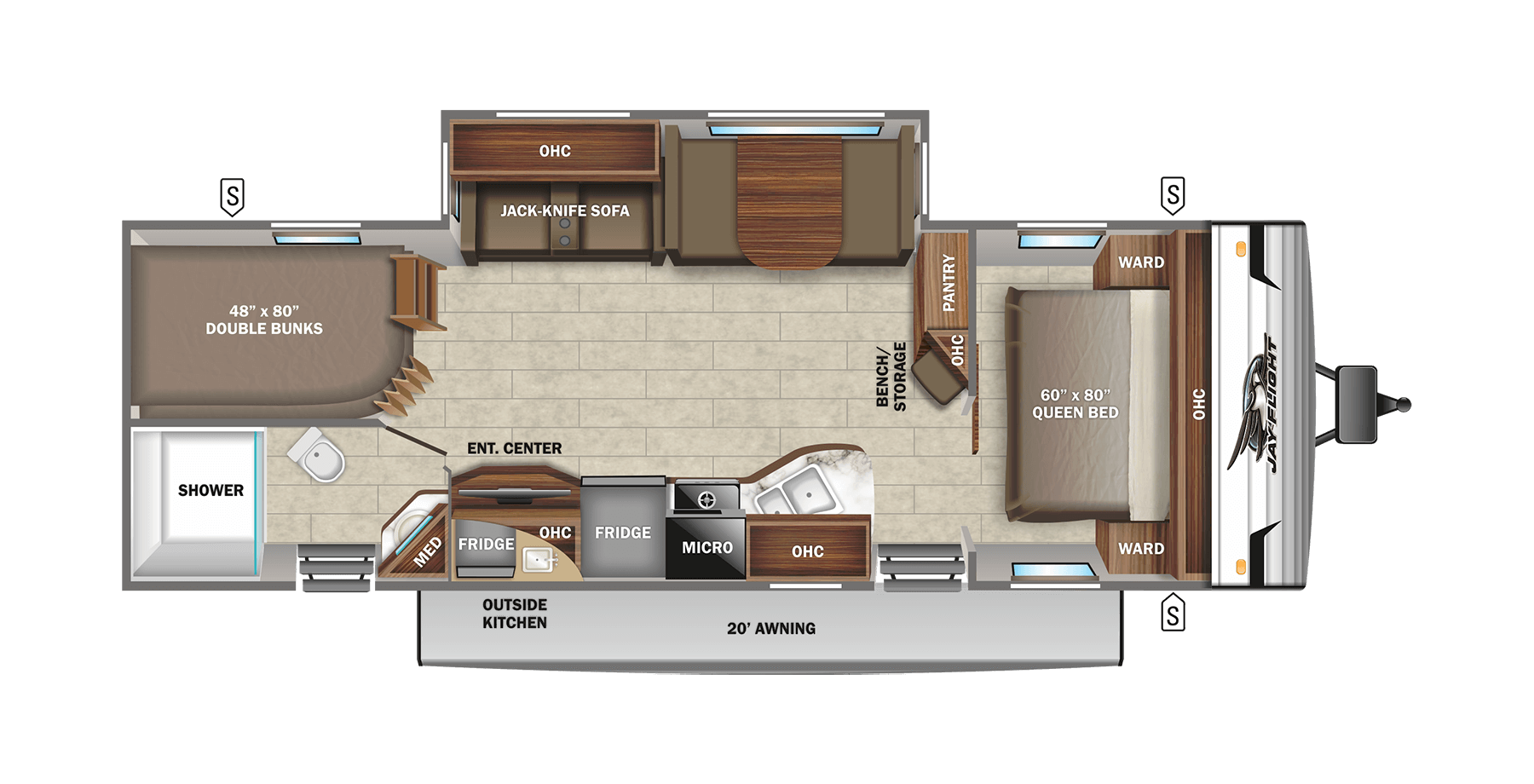 Jayco strikes again with their best-selling travel trailer on the market. The Jay Flight is a fantastic travel trailer with numerous floor plans. The Jay Flight is the first RV on this list that supports multiple floor plans, which are bunkhouses. The 28BHOK is our favorite, though, because of the massive floor space in the living area. In addition, the lounge has a jack-knife sofa and a dinette that can swivel into additional beds.
The kitchen is amazingly organized and is equipped with a double-basin sink, large refrigerator, microwave, three-burner stove, and an oven. Furthermore, this floor plan is also equipped with an outdoor kitchen.
The bunk beds are fantastic and are larger than any of the bunk beds from the previous entries. The bunk beds are 48 inches by 80 inches, making them suitable for taller people. Furthermore, the Jay Flight is the first true bunkhouse RV on our list. This means the bunk beds are on the opposite end as the main bedroom, leading to some quiet time for the parents.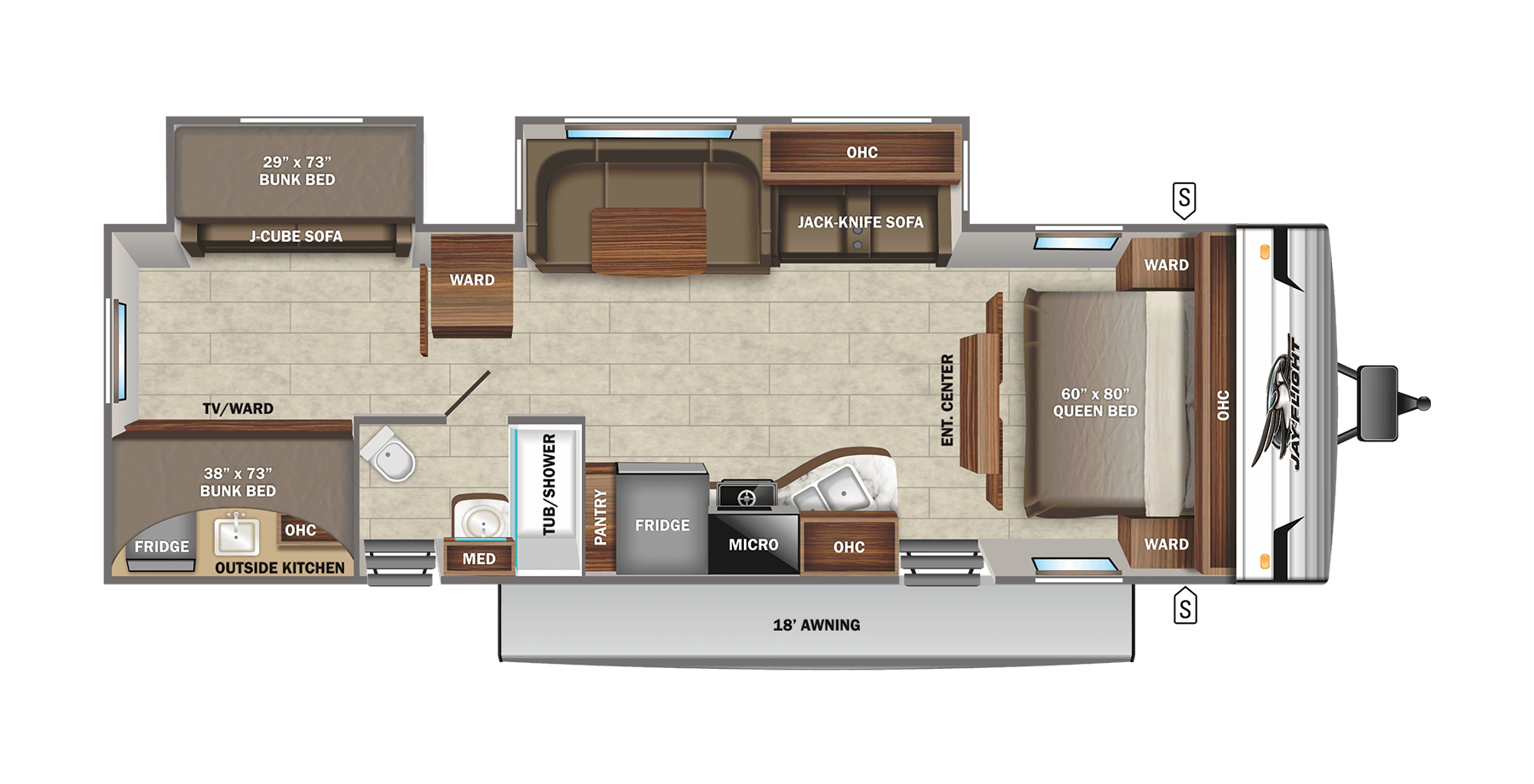 If the 28BHOK did not have enough beds for your family, check out this model instead. The 32BHDS comes equipped with a quad bunk instead of a double bunk. That's double the beds. Everything else is nearly the same as the previous Jay Flight model, including the addition of an outdoor kitchen. However, the bathroom is a bit smaller, but there are two entertainment systems, one for the kids and one for the parents.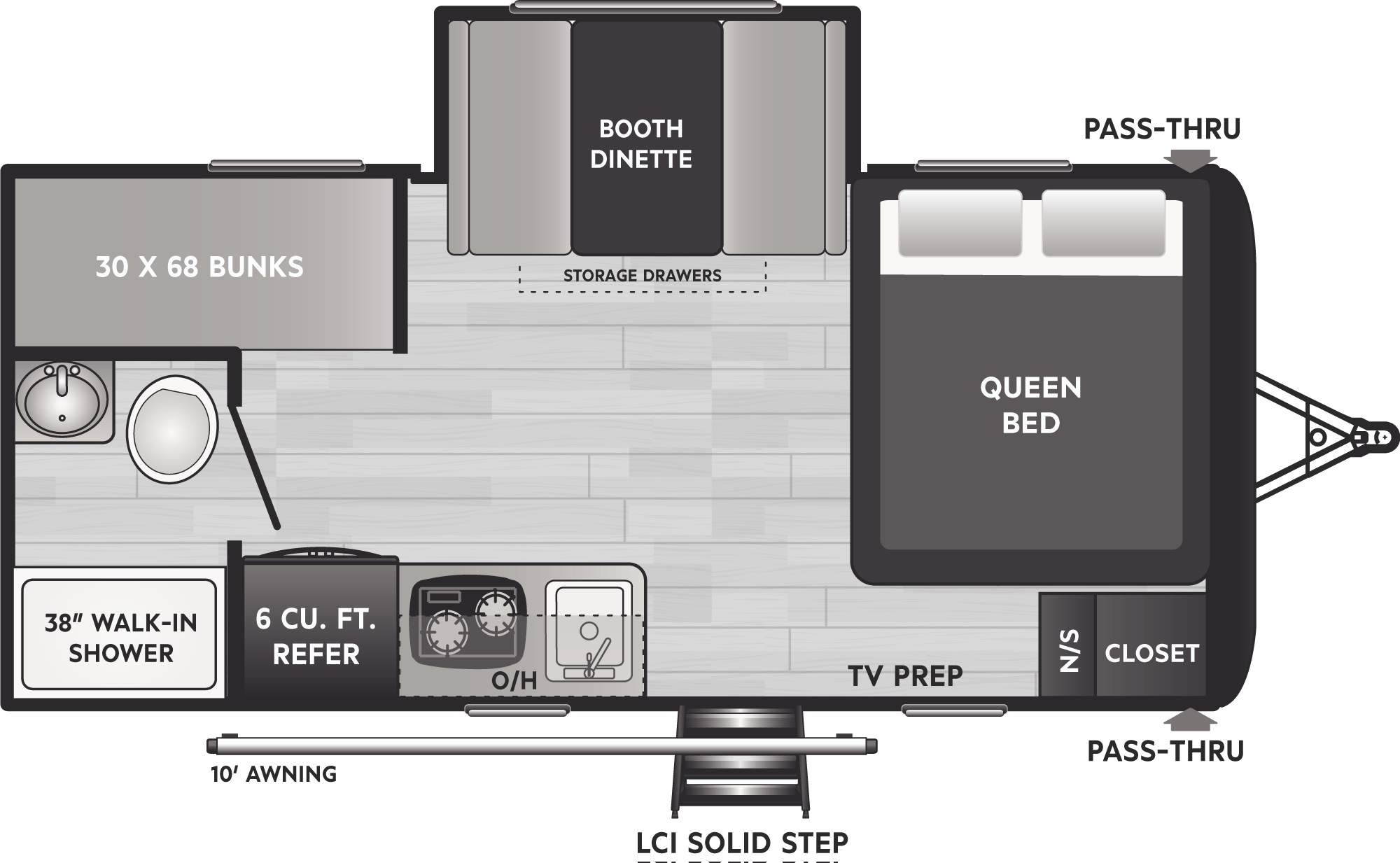 The last travel trailer on our list is the Keystone Hideout. We wanted to mix up this list and provide you with a small bunkhouse example. The 176BH is only 21 feet long, making it a better choice for families who want to spend most of their trip outside.
The bunk beds are average-sized and are on the opposite side of the trailer from the main bed. This RV sports a small kitchenette that comes with a deep-basin sink, two-burner stove, a microwave, and a decently-sized refrigerator. Furthermore, the bathroom is pretty large for an RV this small, which is always an excellent addition.
5th Wheel Bunkhouse RVs
If bunkhouse travel trailers are a little cramped for you, then a 5th wheel bunkhouse is the way to go. 5th wheels are the larger and heavier cousins to travel trailers, and the Montana High Country is one of our favorites. This 5th wheel has three huge slide-outs, which dramatically expands the living space when setting up camp.
The kitchen is impressive and has a massive refrigerator, a residential-sized microwave, stovetop, and oven. Furthermore, the sink is located on a small island in the center of the living space, which makes for a beautiful display.
The bunk beds are massive and are 60 inches wide. Furthermore, the bunkhouse room has its door for some actual privacy—finally, a hide-a-bed sofa, theater seating, and a beautiful fireplace to round everything off.
The Volante by Crossroad is another beautiful 5th wheel. Our favorite parts about this 5th wheel bunkhouse are the two kitchens. The interior kitchen is small but stunningly beautiful. It includes a two-basin sink, large refrigerator, a microwave, three-burner stove, and a small oven. The outside kitchen is just as fancy and is perfect for families who like to grill.
The bunk beds are massive, and we love that each bunk turns into its own room when the door shuts. Furthermore, you can change the dinette and large sofa into two more large beds.
Finally, there are two bathrooms in this RV. The first one is in the master bedroom and is the smaller of the two. The second is right next to the two bunk beds in the rear of the RV and has a fantastic amount of space to move around.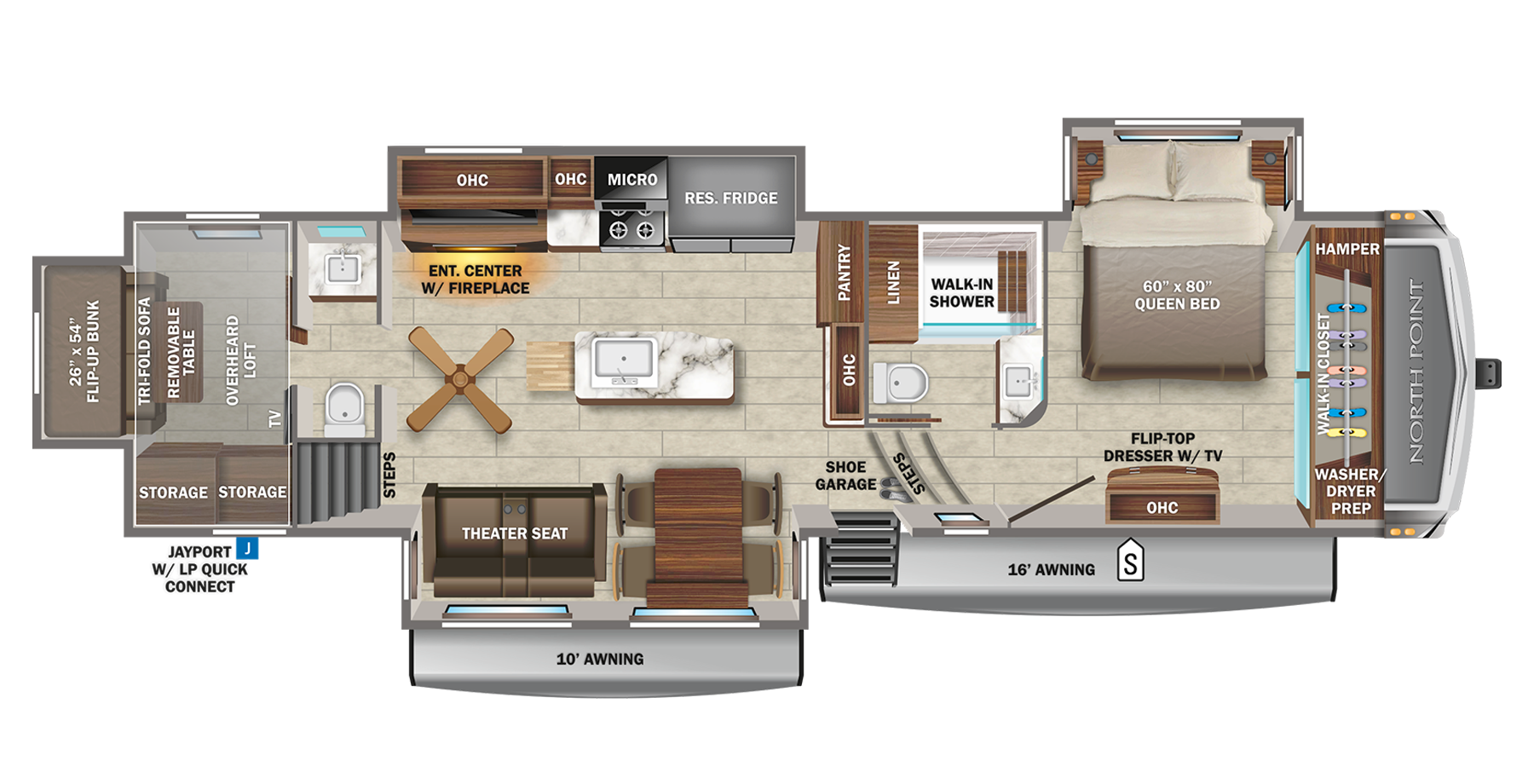 The last entry on our list is our favorite 5th wheel bunkhouse. Jayco has found a way to make this 5th wheel feel like a house on wheels. The living space is pretty large and comes with theater seating, a dinette, and an entertainment center with a fireplace.
The kitchen is fully equipped with a fridge, microwave, four-burner stovetop, and oven, all residential-sized. Furthermore, the kitchen is massive and on a beautiful island countertop. Finally, there is a ceiling fan in the middle of the RV to make it even homier.
The bunk beds are in their own walk-in room, which feels exactly like a kids' room—small beds with a couch, table, tv, and plenty of storage space. Furthermore, there are two bathrooms on opposite sides of the RV. The larger one is in the master bedroom and has a walk-in shower. The second bathroom is on the opposite end of the RV, directly next to the bunkhouse room.
Final Thoughts
Bunkhouse RVs are fantastic for large families who like to go camping frequently. While they are a little more expensive than traditional RVs, we believe the experience they can offer your family is more than worth it. However, suppose you do plan on purchasing a bunkhouse RV. In that case, we recommend going with a travel trailer or a 5th wheel because they offer more living space and separate rooms to provide some extra privacy. We hope that all of the information provided by this article helps you on your journey of finding the perfect RV for you and your family.