Over the last decade, registration to own towable recreational homes has increased considerably. As trailer enthusiasts try to limit their carbon footprint and increase their versatility, trailer manufacturers are rising to the occasion to meet their demands. Many brands have been coming up with trailer models without the added weight of the transmission, an engine, and a gas tank.
Today, the market is flooded with ultra-lightweight travel trailers weighing less than 1000 lbs.
In this article, we have compiled a list of the best travel ultralight trailers. Besides choosing the lightest travel trailers, we have also selected budget-friendly options with good reviews from users and critics.
Factors to Consider When Purchasing an Ultra-Lightweight Travel Trailer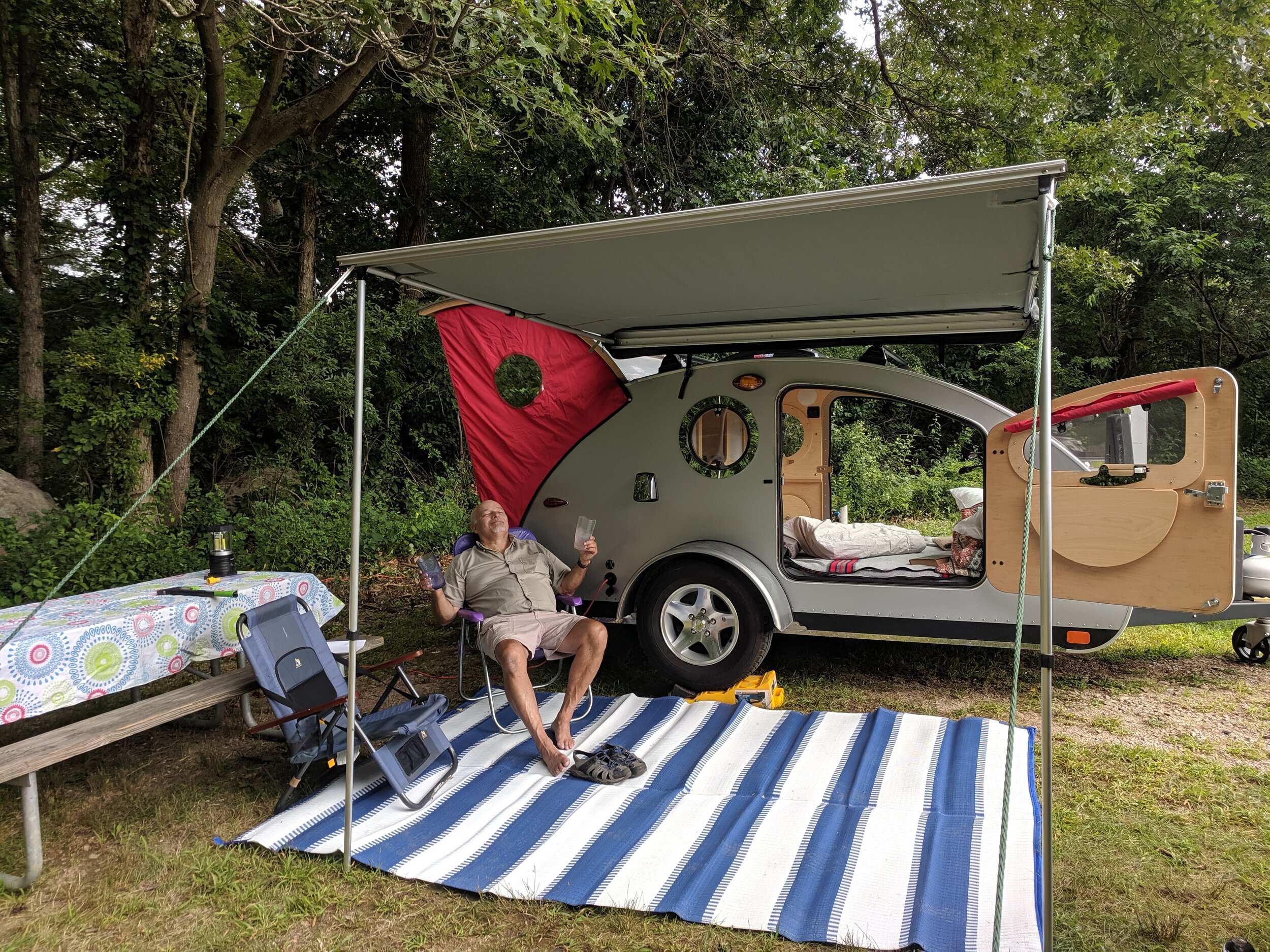 Before discussing the best ultra-lightweight trailers, you need to know the factors to consider when choosing a travel trailer.
When choosing an ultralight travel trailer you have to decide which amenities you require, your vehicle towing capacity, off-road capability, and the number of people you are willing to accommodate.
To help you down narrow your options, consider the following factors:
Towing Capacity
The trailers we will discuss below are extremely light and can be towed by almost any vehicle. Some trailers are even towed by huge motorbikes. It is however important to consult the owner's manual to find out the exact weight your vehicle can handle.
Remember, the weights provided in the list are for an empty trailer, therefore packing up supplies for your trip will most certainly add the overall weight. So, ensure that you do not overload your vehicle. Even if your vehicle can tow 1000pounds, it is unwise to load it to the maximum. By staying a few hundred pounds below the limit, the car will be easier to handle, whether while braking or accelerating.
Number of People
You definitely want to choose a travel trailer that can accommodate your whole family or at least accommodate sleeping bags and a tent for extra campers. Many ultra-light trailers are designed with storage compartments where one can store extra beddings in case the trailer cannot accommodate everyone.
The number of people you can take also depends on the level of comfort you require. Some trailers are manufactured to accommodate four people, but will the space be cozy enough for your family? You have to explore such questions before purchasing a travel trailer.
Amenities Available
Perhaps the most important question among Travel trailer enthusiasts is whether they feature amenities like a bathroom. This factor also depends on the camping destination and whether or not you are comfortable using public amenities. If you intend to visit a camping ground with a public bathroom, then you do not have to sacrifice your merger space to fit in a bathroom.
However, if you are camping in a place where trees and bushes are the only available bathroom options, then bringing a toilet of some kind will make life easier. You could opt to get a camper retrofitted with a toilet and shower or pack a privacy tent for your trip.
Off-road Capability
The standard ultra-lightweight travel trailer cannot handle the rough terrain of an off-road trip; however, there are some modern brands like the Black Series Sergent, built specifically for off-road services. These types of trailers feature off-road triers, heavy suspension, and beefy construction to help them handle rough terrain.
Many traditional lightweight trailers are likely to get damaged if you tow them on rough terrain. You could probably end up spending your camping time dealing with repairs such as scratches, leakages, and broken axles.
5 best Ultra-lightweight Travel Trailers under 1000 lbs
In spite of the general opinions and skepticism of the comfort and functionality of these small trailers, modern ultralight travel trailers can offer amenities only found in larger rigs. Manufactured in unique shapes and sizes, they offer the amenities and comforts of big RVs without the extra weight and an exorbitant price tag. Due to their lightweight frames, you can also tow these trailers with almost any type of car.
Granted, ultralight travel trailers may not be very spacious or luxurious, but they utilize the little space that they have and will serve you well if you want to get away for a weekend. Some brands may produce trailers that are bare bones; however, some companies manufacture RVs with more than one floorplan giving the consumers more space for customization.
Shopping for ultralight travel trailers can be a tough endeavor since there are so many brands producing trailers under 1000lb in the market.
Below is our list.
1. Coachmen Clipper 9.0 (Weight: 761 lbs.)
The Coachmen Clipper 9.0 is a small ultralightweight travel trailer with a maximum weight of 761 pounds. The interior of this tiny trailer features a small fridge, an air conditioner a sink, and a 54×74-inch bed.
On the exterior, you can mount a grill on the sides for your camping meals. This model also offers you the option for an additional room, which is simply a mesh tent partition for shade on sunny days. The shade also protects the owners from insects providing a more comfortable outdoor experience.
Essentially this travel trailer is just a sleeping room with just enough space for maneuverability when getting dressed. It is very impressive that it avails enough space for any kitchen amenities. Sadly, clean running water is a luxury on this camper.
The Coachmen Clipper 9.0 is only available from dealer stock. You can purchase the trailer while rand new, but options are limited to the manufacturer's configurations. You can also buy a second-hand model of this trailer in case in-stock units are sold out.
2. Pika from Timberleaf Trailers (Weight: 970lbs)
Named after a small alpine mammal that resides in the Rocky Mountains, the pika trailer is a small and ultra-lightweight travel trailer from Timberleaf. At eight by five and a half feet, the trailer is a popular option due to its teardrop shape and can be towed by almost any passenger vehicle.
The pika trailer features a 4-inch double-size mattress that can comfortably accommodate two people. Even with a 36-inch headroom, the trailer appears roomier due to side windows and side windows. It also offers an exterior kitchen area at the back with two hydraulic gas tanks, which provide more space for the campers to enjoy their camping experience.
If you purchase this travel trailer, you also get an all-road package that you can readily tow behind four-wheel-drive crossover SUVs. If the package is not enticing enough for you, you can opt for the Timbren Axle-Less Trailer Suspension System that features electric rakes, 33" FG All-Terrain tires, rock armor, a 4" lift, and Max Coupler articulating hitch.
You can also expect to find six US ports in both packages to ensure that you stay connected and charged up no matter where you visit. The average cost of the Pika trailer is $11,750.00.
3. The ProLite Suite from Roulottes-ProLite (Weight: 590 lbs.)
Weighing at only 590 lbs. dry weight, the ProLite suite is an ultra-lightweight travel trailer manufactured by a Canadian Company called Roulottes-ProLite. Retailing at $11,652 the Suite trailer is easy to tow and does not require a large vehicle to pull around. The transportation logistics are also straightforward.
Even with the small dimensions, the trailer features a folding sofa that can be turned into a bed to accommodate two people comfortably. In addition, both the exterior and interior are also fitted with mounts that can function as workstations or dining tables. This crafty mechanism allows you to move the table sideways without having to unmount it from the wall.
The Suite trailer also features optional electrical brakes, a feature that the other trailers on the list lack. With a Fan-Tastic fan retrofitted on the trailer, the atmosphere inside I always kept warm and cozy. The Suite trailer makes efficient use of its tiny space by offering two small access doors for you to store camping accessories. The two depositing areas on the outside also add to the overall space that the camper can offer.
4. The Avan Weekender (Weight: 850lbs)
If your camping trip itinerary includes outdoor cooking, then you might want to consider purchasing the Avan Weekender ultra-lightweight travel trailer. This trailer weighs about 850 lbs., and retails at just $15,000.
The Avan Weekender trailer is equipped with a bed that can fit two people and a sliding kitchen option. The camper also features several reading lights and three power outlets scattered in the van.
The company that manufactured this trailer clearly understood that one does not require a lot of headroom when sleeping but is very vital when cooking, hence the popularity of this trailer among people who enjoy outdoor cooking.
Before embarking on your trip, you have to be very careful when choosing the kind of vehicle towing the rig. For instance, if your car can only tow 1000lbs, you can only pack goods that weigh only 150lbs while in motion. By exceeding the weight limit, you can easily overload the suspension of the trailer. In case you have extra stuff to pack, it would be better if you placed it in the trunk of your car.
5. Rover from So-Cal teardrops (Weight: 920 lbs.)
The Rover travel is a beautiful and aerodynamic ultra-lightweight travel trailer from So-Cal teardrops. Weighing 920 lbs. total weight, the trailer features enough space to comfortably accommodate the owners while offering all the amenities required to make their camping experience a memorable one.
The exterior of the Rover trailer is made from sturdy materials. They protect the trailer from natural elements regardless of the conditions. In addition, the body of the trailer is also designed to be durable, allowing travelers to have as many outdoor experiences as they can without worrying about maintenance costs.
With a height of 44.5" and a width of 47".The trailer interior is also spacious enough to offer a comfortable bed that two people can sleep in. The interior also features accessories such as a stove, a fridge, and two burners to increase its convenience while camping.
Also, in the back area of the Rover's gallery lid, you can expect to find sufficient storage space for your camping gear. The Rover trailer essentially offers a complete and compact solution for all the outdoor adventures you intend to enjoy.
Benefits of Purchasing Ultra-lightweight Trailers under 1000 lbs
If you are used to camping in large recreational trailers, you might fail to notice some of the more subtle benefits that a 1000lb trailer can offer. This is until you spend a night in one. Once you have experienced a camping experience in these ultra-lightweight trailers, you might never want to use the big RVs for your vacation. Here is why.
Can Be Hauled By Almost Any Type of Passenger Vehicle
You need not rent a heavy-duty SUV to pull your rig for your camping trip you can use your family car. Whether a Subaru Crosstreck, a Honda CRV, or any other popular family car brand, these 1000 lb. trailers are easy to set up and pull. All you require is a hitch, a tow package, and a rake controller to haul the rig legally.
In case you are unsure about your vehicle's tow capability, consult the user manual to find the exact weight that your car can comfortably handle. Next, determine the maximum weight capacity of the trailer, including your camping gear and any fuel in the tanks. It is always wise to keep the total weight of the packed trailer below its towing capacity and the maximum weight that your vehicle can.
A Better Alternative to Sleeping in a Tent or Car Camping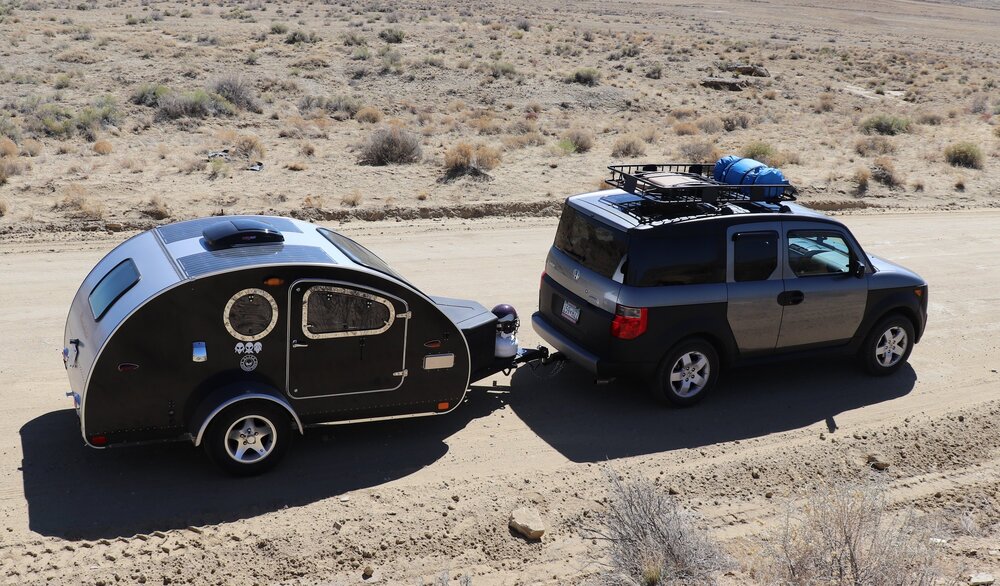 Most people avoid camping because they consider sleeping outside in the cold too uncomfortable for them to enjoy. The crawling and flying bugs also make it near impossible for anyone to have a good night sleep. However, when camping with lightweight trailers, you can get a comfortable bed to sleep in instead of sleeping on the ground.
Most of these trailers are also retrofitted with a heater and an electrical system. Such accessories protect campers from natural elements making a 1000lb trailer a more comfortable option than toughing it out in a tent or sleeping in a car.
Easier Towing Experience
When towing a 1000lb trailer, you might not even notice pulling a rig behind you, even in small cars. These travel trailers make hauling a rig more manageable. Most of them are also equipped with independent suspensions on their axles, making it easier to handle even the roughest off-roads. However, as with towing any travel trailers, the drivers have to be extra vigilant for crosswinds while driving.
Easy to Handle by Yourself
Since most travel trailers under 1000lbs are very light and offer a hitch roller, one person can easily handle the setup process. You can hook the rig up, unhook it and even position the trailer by yourself. The mechanisms and design behind these trailers are made to allow simple execution. They are also easy to maintain too.
Conclusion
Travel trailers are the best way to enjoy outdoor activities such as camping without necessarily setting up a tent or sleeping at the back of your car. Therefore, if you are going to go through the trouble of towing a rig, trailers weighing under 1000lbs are the best option. Even at under 1000ls, there are amazing travel trailers in the market that can keep you warm, safe, and comfortable no matter where your adventure takes you.
Some campers may believe that these small ultra-lightweight campers may hamper their camping or travel abilities but there is a huge tread off. You can still haul a trailer under 1000lb to the campground and still enjoy the amenities that make a camping experience fun and enjoyable.
However, it is important to choose a travel trailer depending on your budget, needs, the number of people, your car's tow capability, and the amenities required. The 5 travel trailers above are some of the best in the market guaranteed to make your next camping trip a memorable one. Happy camping!