One of the best parts of trailer living is the fact that people of all ages can participate. If you head out to any popular camping ground you are likely to encounter a couple whiling their timing away in a teardrop camper, or a retired couple enjoying their sunset years by living in a camper full time. You are also likely to see families enjoying their weekend or holiday trip together.
While camping may seem like a fun and enjoyable outdoor adventure, it might prove to be a rather uncomfortable trip if you are traveling with your family in tow. You need a travel trailer that can comfortably accommodate the entire family while providing the basic amenities required to make a camping experience a memorable one.
In this article, we have rounded up some of the best Quad Bunk Travel Trailer Under 7000 lbs. based on opinions from RV experts and seasoned campers. These trailers are specially designed to accommodate your family's size while offering optimum space and comfort. But before we dive into the list, here are some aspects you need to consider before purchasing a bunkhouse travel trailer.
Quad Bunk Travel Trailer Overview
A great solution for Quad Bunk Travel Trailer Under 7000 lbs. is travel trailers that offer a bunkhouse at the rear of the vehicle that serves as a second bedroom. Luckily, trailer manufacturers have been coming up with quad bunk travel trailers designed with floor plans that are large enough to accommodate a whole family- especially families with more than one child.
The quad bunkhouse trailer can elevate your family trip to a whole new level. These trailers maximize the space used in the recreational and sleeping area by impressively combining functionality, portability, and luxury.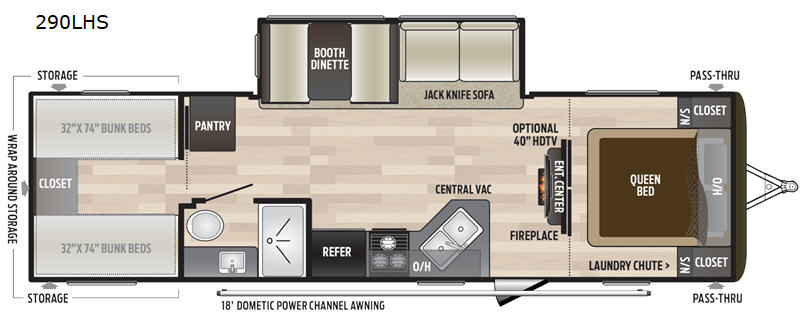 The term bunkhouse refers to a sleeping setup, usually consisting of bunk beds that utilize the vertical space of the trailer, creating more space for the living area. As the name implies, the quad bunk trailer offers four sleeping bunk beds alongside a master bedroom sleeping area meant for two people. Quad bunk trailers offer more privacy and comfort than regular travel trailers.
Whether you are in the market for a fifth wheel, a teardrop camper, a motorhome, or a travel trailer, there are a lot of bunkhouse options to increase your floor plan without having to invest in a class A premium recreational home. These trailers are spacious enough to accommodate an entire family, but at 7000lbs they are still light enough to be towed by a family vehicle.
Aspects to Consider in a Bunkhouse Travel Trailer
Space Requirements
The key to purchasing a bunkhouse trailer is to consider the space requirements of your family. If you are camping as a couple, well, a 15-foot trailer would be sufficient to accommodate your needs. However, if you are camping with kids and pets, you might opt for the longer bunkhouse trailer. Longer RVs offer additional features such as increased storage space, bathrooms, and closets.
Budget
There are several bunkhouse travel trailer options that you can choose from to meet your budget plan. If you are pressed for money, the low-cost and budget-friendly trailers offer great quality services and feature ingenious interior designs that make your camping trip even more enjoyable.
Quality
When purchasing travel trailers under 70000lbs, it is important to focus on the construction quality of the trailer. To investigate the quality of your trailer, check out for creaking doors, broken floorings, moldings, water leaks, roof replacements, and broken windows. You should always be aware of these flaws so that you don't buy a bunkhouse trailer that keeps breaking down thus incurring huge costs in maintenance fees.
6 Best Quad Bunk Travel Trailer Under 7000 lbs.
1. Prime Time Tracer Breeze 31BHD Travel Trailer RV
If you are looking for a travel trailer that you can use in all seasons, the Prime-Time Tracer Breeze 31BHD is a great choice. This 6700 lbs. dry-weight trailer was built specifically for camping enthusiasts who go off-grid for an extended period. The trailer features a roof, floor, and cap with R-14 insulation, heated holding tanks, heated underbelly, and direct forced air.
The Tracer Breeze 31BHD has a floor plan like most quad bunk travel trailers however it only features one slide-out which, expands the bedroom instead of two. The cabin area of this trailer is spacious enough to accommodate 4 four bunks, a closet, a driver and passenger side bunks, and a full outdoor kitchen.
This trailer may only have one bathroom but it is packed with a lot of features to make up for the inconvenience. The inside of the bathroom features a medicine cabinet, a big 40-inch shower with tub surrounding, and bench seating, an extended height toilet with a foot flush, a 12-volt exhaust fan, and motion-sensing lights.
The kitchen and living area feature an 87-inch king booth dinette, which offers a large area for you and your family to enjoy your meals. The dinette also converts into a large bed at night. You can also expect to find an oven with three burners, a two-door refrigerator, a microwave, a lighted range hood, countertops, and a single basin sink in the kitchen area.
The Tracer Breeze 31BHD also offers plenty of storage space to accommodate all the gear and equipment for your trip. You can also stay entertained from an LED-lit home theater speaker and a large 40" TV screen. The trailer also comes with a Winegard 360 Air 4G Antenna for you and your family to stay connected to the outside world.
2. Dutchmen RV Kodiak Ultimate 3321BHSL
The Dutchmen RV Kodiak Ultimate 3321BHSL is a unique travel trailer featuring a quad bunk layout with slide-outs on either side to expand the interior space. Inside the trailer, you can expect to find a master bedroom located to the right of the entry with a huge 70 by 80- inch king-sized bed.
The bedroom also features wardrobes built which, are built on both sides of the bed, and an overhead cabinet. Right next to the bedroom is a bathroom with a spacious shower a porcelain toilet and a large vanity sink. You can gain access to the bathroom from the master bedroom as well.
In the main living area of the Dutchmen RV Kodiak Ultimate 3321BHSL, you will find an entertainment center with a fireplace, theater seats, a large dinette, a kitchen, and storage space under the passenger side slide out. You can prepare meals from the fully-equipped kitchen packed with a single bowl sink, high-rise pull-out faucet, a three-burner cooktop with an oven fitted with a glass cover, a 10 cu. ft. fridge, and solid countertops for food preparation.
The rear end of this quad bunk travel trailer features a quad bedroom which is furnished with a flip-up bunk above a convertible dinette on the driver's side and terraced bunks on the passenger side. The trailer offers plenty of storage space inside the cabin, with additional storage located at the front which features large baggage doors.
3. Winnebago HIKE
Measuring less than 30 feet in length and weighing a meager 3400lbs, this tiny camper is the lightest quad bunk travel trailer on our list. The Hike has five floorplans which feature a steel exterior with a liner automotive design, a bunk room and a master bedroom in the sleeping area, and a living area with a kitchen.
The trailer may be small but does not compromise comfort. The trailer's interior will make you feel right at home with light stylish wooden furnishings and contemporary furniture spread throughout the cabin. The living room area features an LED TV, a Wi-Fi prep, and an AV sound system for you to enjoy state-of-the-art entertainment while camping.
The Kitchen area is packed with a variety of amenities including; a microwave, 2-burner stove, focal cabinets a stylish grey fridge to compliment the colors of the bunkhouse. The master bedroom provides that homey feeling with a large bed that can comfortably accommodate two people. The trailer also offers plenty of closet and cabinet space for you to store your gear.
4. Tracer 305 AIR
Forest River impressed camping enthusiasts when they produced the Tracer 305AIR, a bunk travel trailer that can accommodate comfortably five people. Weighing at 6418lbs dry weight, offers a combination of a fancy bathroom, two kitchens one at the exterior curb and one inside the cabin, and 2 slide-out units to provide for a luxurious outdoor adventure.
The front master bedroom is accessible from double sliding pocket doors and features a sizable queen bed, shirt closets, and nightstands. There is also plenty of space for you to store your night gear provided by the overhead cubies.
The Tracer 305AIR also offers a living room area with a slide-out hide-a-bed couch and a booth dinette. It avails enough space for you to enjoy your meals during the day, as well as sleep after a tiresome day exploring the campgrounds. The kitchen area in the RV is also packed with various amenities to make your camping trip more enjoyable. It features a 3-burner range, a pantry, and a refrigerator for you to keep your food and drinks chilled.
The slide-outs in the trailer free up more space for foot traffic, which ensures that everyone can be inside the trailer at a time. The trailer even has space for a family pet like a dog! How wonderful is that! Finally, the bathroom completes the floorplan of this trailer and features a rear bath, a vanity sink, a medicine cabinet, and of course a toilet.
5. Coachmen Freedom Express Select 31SE Travel Trailer
While many Coachmen trailer models feature bunkhouses, one of the models with a layout that offers a four-bunk bedroom at the back is the Coachmen Freedom Express Select 31SE Travel Trailer. The driver's side bunks are located on the two slide-outs, thus significantly expanding the space when packed at the campground. On the opposite side of the trailers are the other bunks with a full kitchen beneath.
The Freedom Express model has one bathroom, which is however very spacious and can be accessed from two doors. Moreover, the trailer provides the option for either hot or cold water for an indoor or outdoor shower.
When you move into the living area, an 88-inch curved dinette dominates the area with plenty of seating space for everyone. At night, the dinette converts into a bed to provide additional sleeping space. The master bedroom also provides sleeping space on a queen-sized bed surrounded by wardrobes and overhead cabinets. There is even more storage space beneath the queen bed area.
Further along is the kitchen area which, is occupied with a 3-burner cooktop, a microwave, a double bowl stainless steel under-mount sink, a double door refrigerator, and overhead cabinet storage. The living area also offers LED lighting, an entertainment center with comfortable theater seats with heat massage. Furthermore, with the Winegard Air 360+ WIFI and 4G Prep, you can stay connected to the outside world or catch up on your favorite shows on Netflix.
6. Jayco Jay Flight SLX 294QBS Travel Trailer
A popular travel trailer among outdoor enthusiasts, the Jayco Jay Flight SLX 294QBS trailer fits right into this list because of the four quad bedrooms located at the rear of the trailer. The company spares no expenses in interior furnishings, giving the trailer a homey ambiance while providing plenty of storage space for your camping gear and personal belongings.
You can access the interior of the cabin from under 18-foot yawning to find the master bedroom. This bedroom is furnished with a queen-sized bed, surrounded by well-polished wardrobes on both sides and a shelf fitted overhead.
Across the bedroom door, is the living area, which features an entertainment center, a convertible sofa bed, and an overhead cabinet. The entertainment system supports Bluetooth connectivity, MP3/iPod input jacks and offers premium multimedia sound output.
Further along is a fully equipped kitchen which features a 3-burner cooktop with a glass cover, an oven with a glass door and interior lighting, a microwave, Nickle faucets a 6-cu. ft fridge with temperature controls and a large50/50 acrylic sink. There is also an additional outdoor kitchen if you prefer cooking outdoors. After cooking, you can have your meals at the U-shaped dinette with plenty of space for the whole family. At night, the dinette converts into additional sleeping space. Finally, the Jayco Jay Flight SLX 294QBS has a pantry with amenities such as a large walk-in shower with tub surround, a toilet with a foot flush, a vanity sink, and storage space beneath the sink.
The benefits of Purchasing a Quad Bunk Travel Trailer
Great for Family Trips
Quad bunk travel trailers can comfortably accommodate a family of up to 10 people. You don't have to worry about leaving your kids behind because of insufficient space or privacy concerns. The living space in the center helps provide privacy for the parents and the children. If you are the kind of person who enjoys more company during camping trips, then the quad bunk trailers will serve you just right.
You Carry Your Home with You
Regardless of your destination, you always have the comforts of your home with you while on the road. Quad bunk travel trailers are designed with a floor plan that is like that of a house. You get bedrooms with queen beds and bunk beds, kitchen cabinets, bathrooms, closets, and other amenities to improve your comfort while on a trip.
More Storage Space
One of the greatest sources of headache when going on a camping adventure is finding enough storage to pack everything you might need out there. It might be a hassle packing everything in a car, but with a quad bunk trailer, you can pack everything you need and more. They maximize their floor and storage space so that you can safely store everything in different spaces in the trailer including cabinets, closets, drawers, etc.
Entertainment
Many quad bunkhouses are retrofitted with entertainment systems to keep you occupied on your trip. Many brands mostly offer LED TVs, speakers, power awning, Wi-Fi, and an outdoor kitchen. You can never get bored while camping in a bunkhouse travel trailer.
Conclusion
A quad bunk trailer is the perfect recreational moor home for a large family or a group of people to enjoy a camping trip. They are not only functional but are spacious and comfortable. When deciding on the best quad bunk travel trailer to choose from there are still more options available in the market that we did not include in our list.
Different families have different needs and expectations from their bunk bed travel trailers. The features vary widely, and thus it is important to choose one that fits your personal preferences and the needs of your family. The above list of 6 Best Quad Bunk Travel Trailer Under 7000 lbs. is merely a starting point to give you an idea of the sort of features, amenities, and floorplans available in the RV market today. Explore the options available and choose one that best works for you.