There's no doubting that when the weather gets nice, it's time to exchange your beloved hiking pants for a pair of good hiking shorts. Finding the most incredible hiking shorts for women, on the other hand, isn't simple. The ideal pair will be highly functional and comfortable while also fitting nicely and at just the right length. Where can
That's where we come in. We at Adventurism take the uncertainty out of choosing by making it our goal to assist you in selecting the most acceptable option for you. We'll tell you precisely what to search for when shopping for a great pair of women's hiking shorts.
Mountain Hardwear Dynama 2 Bermuda
Pros:
High comfort and mobility
Versatile
Deep pockets
Cons:
Some might not like the style
On the more expensive side
If comfort and coverage are your top hiking shorts priorities, the Mountain Hardwear Dynama Bermuda Shorts are ideal. There's no cozier way to wear knee-length pants than with a roomy fit and stretchy waistline.
These shorts look clean and sleek, with a simple design that promotes performance. When you're traveling around, without the requirement for buttons, oversized zippers, or purely amusing features, you'll have complete freedom of movement. That isn't to suggest these shorts are devoid of practical features. The deep hand pouches and a side concealed zip pocket is just the thing.
Columbia Sandy River Cargo – Women's
Pros:
Lightweight material
UPF 30 sun protection
Breathability & venting
Cons:
Belt seems pointless
Cargo pockets are too small
These budget hiking shorts provide ventilation and mobility as priorities, making them an ideal choice for those looking to venture out on a hike.
These outdoor shorts are incredibly inexpensive, only costing $25 each. They may not be the fittest or stylish model on the market, but they are functional — and at such a low price, that's all that matters. These pants are made of 100 percent nylon with a unique quick-drying process and resist moisture well but dry quickly — in minutes, to be exact. The belt is adjustable and removable if you size these shorts correctly, which reduces their overall weight by about an ounce.
The six-inch inseam and baggy fit of these shorts make them pleasant to wear for a range of outdoor activities, including hiking, paddling, and climbing.
REI Active Pursuits
Pros:
Lightweight material
High comfort, mobility, and ventilation
Built-in liner
Cons:
There are no hand pockets, and the baggy design isn't attractive to everyone for more specialized usage.
The REI Active Pursuits are an excellent alternative to the standard hiking short design. Minimalism is essential in these shorts, which are all about simplicity and comfort. The fabric is breathable, quick-dry, and provides UPF 50 sun protection. Its baggy nature makes it suitable for a variety of cross-sport activities because of its airy feel. The Pursuits may be a technical or breezy option when backpacking, thru-hiking, or doing trail runs.
On the other hand, hand pockets may be a disadvantage in the area of light trekking and other slower activities. The design is also rather baggy, which might be unflattering. Overall, we understand that these minor drawbacks aren't at the forefront of a thru-hikers mind. If you're carrying a backpack with you, having hand pockets isn't always necessary. These shorts aren't appropriate for all hiking demands, but they're ideal for hot weather hiking and general aerobic activities.
Prana Alana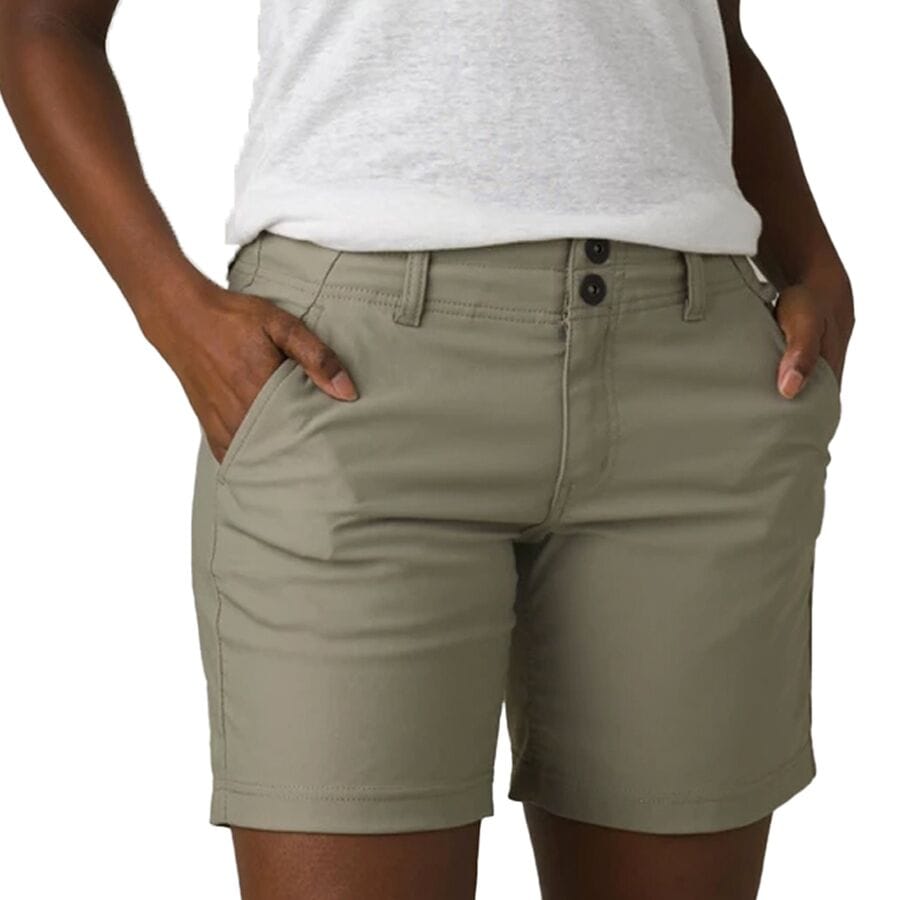 Pros:
Modern styling
Great for a variety of activities
Deep pockets
Cons:
The snap closure isn't the most comfortable, and it's not breathable
These pants are designed for those who value comfort and function. They're light, breathable, and versatile, perfect for wearing from town to trailhead — or any other stops you need to make along the way.
The Prana Alanas is a good choice for any outdoor activity. They're also inconspicuous at your local brewery, thanks to their subtle tan color and lightweight. Despite being heavier than many of the other short options, the thicker material used in their construction is surprisingly breathable, adding a degree of confidence in their long-term durability.
What I appreciate most about these shorts is that the front pockets are deep enough to store objects.
Analysis and Test Results
The most excellent hiking pants will not only keep you comfy, but they'll also be the most useful for your outdoor activities. The initial impression is made by style and the entire inseam length, but overall performance matters most. These brands offer distinct blends of fashion and usefulness based on their varied inseam lengths. All of the costumes are made of synthetic fabrics with varying degrees of spandex and cotton. The spectrum of materials adds to the excitement, but our first rating metric that is most likely to be a deal-breaker is comfort and mobility.
Water Resistance
We want resistance to be recognized as a distinguishing characteristic of outdoor clothing. We wanted resistance to be acknowledged for the benefit, so we made sure it was praised for this advantage. Being completely waterproof would drastically reduce the function of breathability; therefore, having good opposition while also allowing for rapid drying and breathing is ideal for summer excursions.
The DWR-coated Patagonia Skyline Traveler beads beautifully on the Patagonia Skyline Traveler. We were delighted to discover that the beading remained unchanged throughout the whole testing period, as there appeared to be no absorption from what we could tell.
The Patagonia Baggies, which are also DWR-coated, was another prominent pair. We did observe a small amount of absorption. However, it was consistent with many of the top scorers.
The Mountain Hardwear Dynama 2 Bermuda shorts rank almost as high as the BAGGIES (DWR technology).
In contrast, the Columbia and Arc'teryx Sabria Bermudas rate is slightly lower, with above-average scores. As mentioned earlier, there are only minor variations between the brands; we notice them only when we roll the water off the garments. The majority of these showcased both mild absorption and water beading.
On the other hand, we discovered that the Houdini Wadi, REI Active Pursuits, Prana Alana, OR Wadi Rum, and Patagonia Standup have few to no water resistance. Even though water absorption is rapid on these three pairs of boots (except for the Patagonia Standup), the materials breathe effectively enough (except for the Patagonia Standup) to compensate for it with fast drying times.
Comfort and Mobility
Comfort and mobility are two dimensions that make up a single score, which most influence our ranking system. These fundamental characteristics are based on all-day wearing, general comfort and fit, the fabric's flexibility, and the overall ease of movement. We're grateful that all of the pairs we've tested so far are mid-rise or high-waisted, ensuring that while sitting down or squatting, the waistband does not fall too low in the back.
When it comes to mobility, the amount of points awarded is not associated with inseam length. Because the material's elasticity affects it, scoring for mobility does not decrease as inseam length increases. Each short is assessed on whether or not our movement is ever halted, from technical terrain to aimless strolling. Being restricted while attempting to high-step, hike up a long slope, or go out and about in a casual environment is a serious fail. Keep in mind that if something doesn't sit/fit correctly within the first few miles, it will most certainly get worse or more aggravating throughout the day.
Venting and Breathability
We chose a combination of venting and breathability as the second most crucial indicator. We want shorts to keep us calm and dry during the summer heat. Breathability is essential for body temperature regulation. As a result, we considered how performance might be affected by a lack of ventilation or highly absorbent fabric, which will only cause discomfort. Most breathable shorts are constructed of lightweight synthetic blends, according to our experiences.
The Columbia Sandy River Cargo and Patagonia Baggies are both made of nylon, and they're beautiful examples of short with a lot of ventilation. They're light and airy, with significant leg gaps; as a result, they provide plenty of ventilation via a baggier fit around the legs. Despite receiving a DWR treatment, however, the fabric isn't as breathable as others in the category. In other words, each pair is unique. The Mountain Hardwear Bermuda is one of the most notable pairs since it boasts excellent breathability and ventilation despite having a longer inseam — an accomplishment to be proud of.
Versatility
Being multi-functional is beneficial when you need to declutter your wardrobe or live in a climate with distinct seasons. We think the balance between design and usefulness is essential to consider, so we also believe in style. If they are less conventional, trendier designs work well in the city and maybe worn as casual city wear if they are less traditional. More essential, athletic methods are more likely to be unappealing to the town when fashion is necessary to you. But who says athletic clothing can't be attractive? This is a close call and is inherently subjective. We realize that people of different ages may have other ideas about inseam length, too.
Conclusion
It's simple to get lost in the technical features and aesthetic aspects of hiking shorts. Nonetheless, it's critical to consider comfort and mobility, especially if you intend to go on long treks in the woods. Even the most basic-looking pants can pack a punch when it comes to athletics. The degree to which materials are elastic is a significant consideration in how well each pair performs in our tests and the degree to which the flexibility provides comfort. The material construction of each team influences all measures, from feel to environments where they succeed. We hope this article has supplied you with all the information you need to choose the most OK hiking shorts for your following excursions.