Are you looking for an off-road travel trailer to explore unseen landscapes? Then an off-road travel trailer is the best way your friends and family can have memorable experiences while off the grid. These Well-designed, rugged, and compact off-road travel trailers offer more sovereignty to travel and stay in remote locations all the while making your outdoor excursions more comfortable and enjoyable than sleeping in a car or a tent.
There are a variety of travel trailers under 5000lbs that are lightweight and easy to maneuver but unfortunately cannot handle rough terrain. Fortunately, manufacturers are coming up with travel trailers, specifically designed to handle off-road driving.
In this article, we will highlight the best off-road travel trailers under 5000 lbs.
About Off-Road Travel Trailers
These off-road trailers typically incorporate sturdy materials, brawny tires, raised suspensions, and standard safety features. The Modern off-road campers may be significantly smaller and compact than most trailers or fifth-wheel trailers but are designed ingeniously to maximize every square inch for functionality.
So, you don't have to worry about sacrificing comfort and livability. They are also small and light enough to be towed by most passenger vehicles, meaning you don't have to invest in huge trucks with greater towing capacity to travel with a recreational home. The mechanisms employed in these off-road trailers allow outdoor enthusiasts to easily traverse through rough terrain where one might have had to muddle, water ford, or rock crawl to get to the desired destination.
The vast travel trailer market may leave you feeling overwhelmed when shopping for an off-road trailer that will give you the value worth its money. Fortunately, we have handpicked some of the best off-road travel trailers under 5000lbs after reviewing opinions from seasoned campers to assist with your purchasing decision.
These lightweight travel trailers offer brilliant craftsmanship and design, features and functionality, comfort, and amenities. Whether a newbie or an experienced camper you will find a host of useful information on important features to consider on both the interior and exterior of these motor homes to ease your off-road traveling experience in the great outdoors.
Important Terms to Consider
Before we dive into the comprehensive list of the best off-road travel trailers, first you need to understand the difference between GVWR, dry weight, and cargo-carrying capacity. These terms will give you a better idea of the kind of trailer that can be hauled by your family vehicle and the amount of gear you can carry with you to your off-road adventures.
Dry Weight
Dry weight refers to the weight of your trailer or vehicle without any aftermarket upgrades and completely unloaded. It is important to know the dry weight to determine the optimum weight you can pack in the trailer. Your trailer will likely weigh more once you have added your camping gear.
Cargo Carrying Capacity
The cargo-carrying capacity is the amount of weight that a travel trailer can safely accommodate. Always be vigilant when packing so that you cannot surpass the limit provided by the manufacturers because it can lead to handling issues. Failure to adhere to the limits could lead to tire punctures, swaying while driving, and structural damage to your trailer.
GVWR
The GVWR simply stands for the gross vehicle weight rating. It incorporates the dry weight of your travel trailer plus the cargo-carrying capacity. It is the maximum amount of weight of your trailer while fully loaded.
Nine Best Off-Road Travel Trailer Under 5000 lbs
1. Taxa Tiger Moth Off-Road Camper
At 2400 pounds GVWR, 40-square-feet and 18-inch ground clearance, the Tiger Moth Camping trailer from Taxa is considered the crown jewel of off-road travel trailers. This light but robust trailer is a popular option for outdoor enthusiasts because it boasts a simple yet functional design and offers a variety of amenities to make a camping trip enjoyable. You can comfortably haul this off-road trailer using any four-cylinder vehicle and bring it with you to any camping adventure in an area with rough terrain.
It features hatches and doors which are easy to open and fold, to give you an unobstructed view of the flora and fauna around you once you reach desired destination. At night, you can also power up both interior and exterior LED lights illuminate the cabin and surrounding areas.
The trailer also offers optional solar panels and a water system that campers can utilize to charge their mobile devices and cook even in the remotest of locations.
If you are the kind of person who enjoys camping with friends, this trailer is equipped with a couch and a bed which can comfortably accommodate two or three people at a time. It also offers both interior and exterior storage spaces where you can safely store your camping gear or personal belongings. Moreover, Taxa Tiger Moth features a cutting board and a pull-out kitchen with additional countertops and cubies where you can comfortably prepare breakfast, lunch, or dinner for your guests.
2. Lotus Caravans Tremor
The Tremor trailer is an ingenious invention from Lotus Caravan which offers one of the most comfortable and luxurious camping experiences. The trailer features a tough exterior built from German composite paneling to withstand the harsh outdoor environment. The trailer also offers a modernized artisan-level interior with a practical layout. With sleek amenities and furniture, the Tremor is a home away from home guaranteed to give your family a memorable camping experience.
The robust trailer has a lounge area with modern furniture, including two chairs and a large bed. It also features a fully equipped kitchen with accessories such as a stove, a fridge, a microwave oven, and a tabletop for storing food and drinks. You can easily prepare your daily meals then serve them at the comfortable lounge where you can enjoy panoramic views of the environment from tinted windows.
In addition, the tremor trailer is sold with a long-lasting 120Ah battery and a 150 W solar panel. You can be off-grid, without worrying about charging up your mobile devices or getting access to hot water. You can also enjoy your favorite movies and shows from the 24-inch television and entertainment system as you explore the backcountry. An independent suspension and air-conditioning system also provide for a smooth and cool ride, making this trailer a top choice for outdoor enthusiasts.
3. Manley ORV Explore Trailer
Weighing at only 775lbs. dry weight, the Manley ORV off-road explore trailer is among the lightest and tiniest off-road trailers. It is a great option for outdoor enthusiasts who might not have enough storage space at home to pack the trailer while not in use.
This travel trailer is specifically designed to handle off-road adventures and features 31-inch all-terrain tires, a three-inch mattress, and a camping tent. In addition, the trailer was built with a removable hard aluminum lid and a torsion axle, which is military tested to ensure it is robust enough to handle any type of terrain.
With a handy toolbox and accessories such as a rear hitch tire carrier available, you need not worry about carrying out maintenance while camping. The manufacturers also provide campers with the option of customizing their rig, where one can add a personal touch through any creature comfort accessories that one may desire. These custom accessories help increase the comfort, livability, and functionality of the off-road trailer. They include shower tents, an equipment rack, a water heater, a 75-liter water tank, a 120 W 12V solar panel among others.
4. Oregon Trail R Terradrop
The TerraDrop trailer from Oregon Trail R is an edgy and tough off-road motor home that is designed to meet the needs of the modern camper. The trailer is configurable to suit the needs and budget of the consumer. It also features a minimalist design that is so compact that it can fit even in the narrowest parking spots and can be towed by most of the passenger vehicles.
Despite being a small trailer, it, however, doesn't sacrifice functionality or comfort. It features a well-lit interior gallery that is lit from LED strip lights combined with customizable reading lights and travel features such as storage cabinets and pull-out shelves. The TerraDrop Interior is also cooled from a reversible thermostatically controlled fan and vent, which makes it an ideal choice for hot environments or the summer season.
With the manufacturers offering a chance to add a personal touch, you can customize the trailer by adding camping necessities such as a porch light, propane stove, and a water system. You can also customize the interior furnishings to add custom doors, stargaze windows and an audio entertainment system.
5. The Bruder Exp-4 Off-Road Expedition Trailer
This 850 Kg dry-weight rugged travel trailer was specifically made to handle the various challenges of outdoor adventures. It features an exterior with a rough and tough countenance supported by 17-inch alloy rims tucked into 33-inch Mickey Thompson tires. The stainless-steel basin, airtight chassis, and composite body ensure that the trailer can handle any harsh terrain.
The interior offers a 7-foot-long sleeping area capable of accommodating up to three young kids and two adults. It is also insulated to keep campers warm and comfortable during winter and summer. The Bruder Exp-4 also is sold with a durable and functional outdoor kitchen and plenty of space to store food, cutlery, and camping gear. There is also a wide benchtop where you can have your meals.
The trailer can give you that home away from home feeling by availing features such as climate control, Four USB charging ports, and a 60L fridge to keep your food and drinks chilled as you explore the wilderness.
6. Colorado Teardrop Canyonland
The Colorado Teardrop Canyonland trailer is a classic rugged off-road motor home designed to provide comfort while driving in harsh terrain. This lightweight trailer weighs 1,150 lbs. dry weight and is based on the manufacturer's queen-sized platform. It features a heavy-duty torsion axle and a strong steel welded frame. The trailer's weight is carried by 15" BF Goodrich All-Terrain T/A KO2 tires that can handle any kind of challenging terrain.
The interior is made from Birch plywood with a tinge of polyurethane finish to give it a polished look that is easy to clean and maintain. The Teardrops interior also offers a pop-up vent that can fit a queen-sized mattress and a reading area that is lit up from a center cabin light and, two reading lights. You can lock the cabin both from inside and outside as well.
The trailer features a wealth of amenities including; a full cook galley in the back retrofitted with a 30-inch x 58-inch countertop to serve your meals. You can also expect to find three storage areas for cutlery and food. The manufacturer offers 17 upgrades for amenities such as a stargazer window, solar charging, and a water tank for purchase as well.
7. Taxa Outdoors Cricket Camper Trailer
Have you ever wanted to go camping with your own uniquely designed and customized off-road trailer? Well, with the Taxa Outdoors Cricket Camper Trailer, you can customize your trailer to fit your needs, personality, and lifestyle. The Cricket trailer weighs 1732lbs dry weight and, features a durable aluminum exterior and two 15-inch all-terrain tires which, can handle treacherous roads while carrying 910 pounds worth of gear. The trailer is also lightweight and can be hauled by many four-cylinder passenger cars.
Cricket packs different features including, a water heater system and a spacious storage space for gear. Inside the cabin, five swing windows are covered with a mesh. They help ventilate the cabin and protect the campers from pesky insects at night. In addition, there is a sleeping area that can fit two adults and two children, a small kitchen area with a large kitchen counter, and a covered sink where you can cook and serve meals.
This off-road trailer offers a variety of camping amenities such as 12V charging outlets both inside and outside, a freshwater tank, and an Indoor and outdoor LED lighting system. Furthermore, there is an under-the-bed storage area and six cubbies for food, cutlery and camping gear storage.
8. Escapod Topo Off-Road Trailer
Perhaps the most unique features of the Escapod Topo Off-Road Trailer are the Goodyear Wrangler all-terrain tires and a sophisticated suspension system which are specificaly designed for off-road excursions. Furthermore, it has a waterproof undercarriage and a rugged teardrop cabin carved from durable wood and layered with 1.5-inch insulation. These features make the trailer ideal for all-season camping.
The trailer's exterior is made from lightweight aluminum which, prevents corrosion, while the interior surface is made from Baltic birch plywood. It also features an electric system including USB charging stations, a fan, and LED lights which, are powered by a 12V deep cycle RV battery. The LED lights provide warmth and illumination inside the cabin.
Thanks to the open-air gallery, you can comfortably prepare meals and serve them on a stainless-steel countertop. The galley offers rear cabinets and two drawers where you can store your camping gear and nighttime necessities.
After a long day engaged in outdoor activities, you can rest on a queen-sized mattress in a spacious sleeping area that can be accessed via two insulated doors. The sleeping area also features stargaze windows and insulated walls. The Escapod Topo off-road trailer is available in seven colors and has 20 upgrades should you be willing to customize your trailer further.
9. Airstream Basecamp X Off-Road Trailer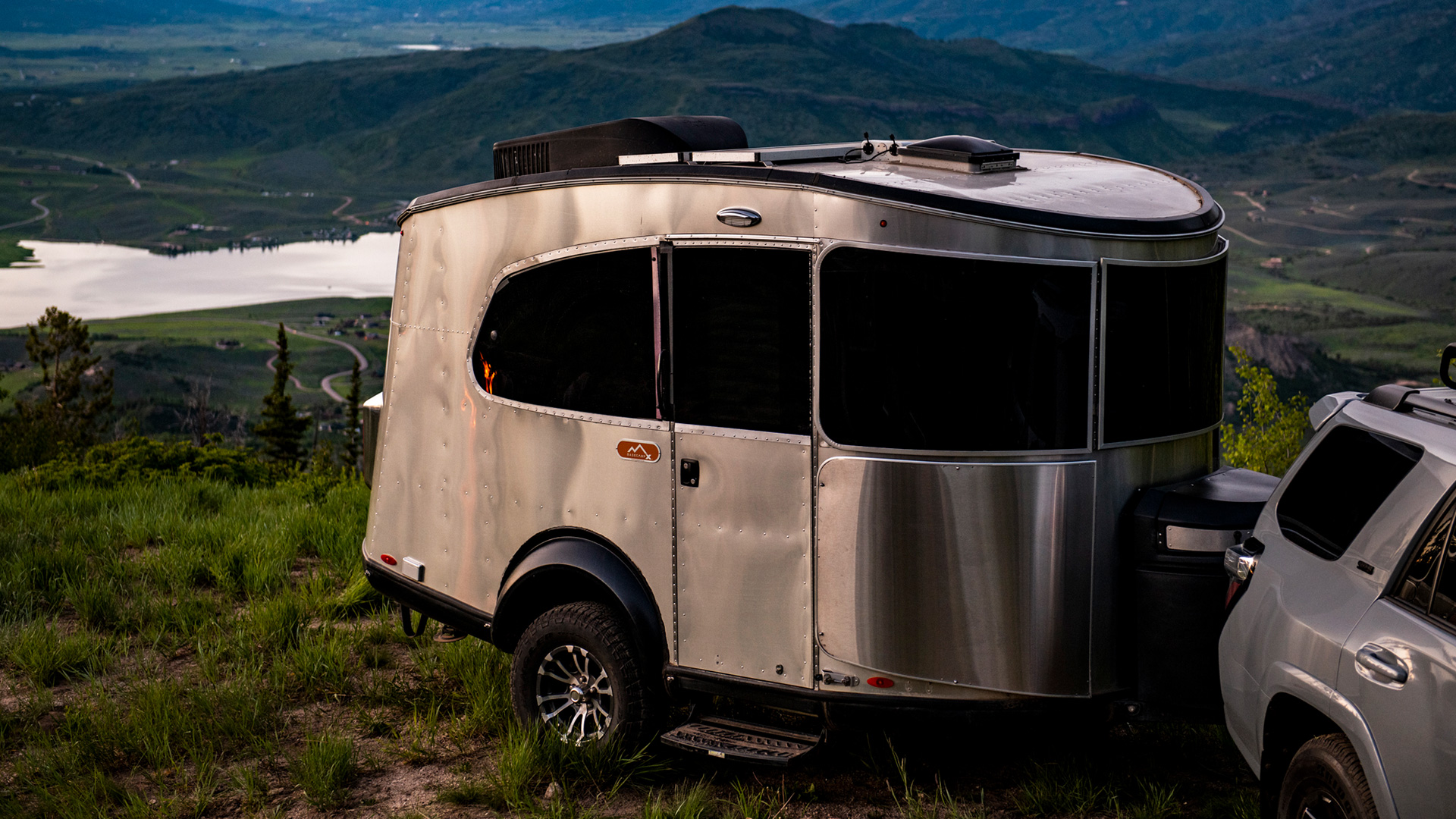 The Basecamp X is a lightweight all-terrain trailer that is designed to provide the home-level comfort during your off-road excursions. Weighing at 2585lbs. it is can be hauled by small and medium-sized vehicles.
Airstreams new model features improved designs including a showerhead inside the bathroom and flexible storage space. You can also expect to find a kitchen area with a fridge, stainless steel sink, and a cooktop where you can cook your meals. With built-in USB charging ports, you can also ensure your camera or mobile phone is charged up.
The other space in the cabin provides a sleeping area that can comfortably accommodate two people. The interior of the cabin also features windows and a skyline with panoramic views of the surrounding environment.
The trailer's exterior is made from aluminum to protect against erosion and is carried by Goodyear Wrangler all-terrain tires. The trailer also offers a 3-inch lift kit for more ground clearance.
Final Thoughts
Whether you are looking for a trailer to haul to your local campground or to go for a multi-day off-road excursion, there are all sorts of off-road trailers for everyone. To make an informed purchasing decision, you must determine the functionality, durability, and strength of construction of the trailer so that you can choose a camper that can provide you comfort and survive a rugged off-road terrain.
Undoubtedly, the trailer that you choose comes down to personal preferences such as your budget, customizations, and off-road adventure style. However always ensure that the trailer can provide you with basic amenities, comfort, and functionality.
In addition, always choose a trailer that can be hauled by your vehicle without exceeding the limit. Remember to always check the specifications provided for amenities inside and outside the trailer.