Travel trailers come in all sizes, shapes, and types and so do the insurance companies that sell their products to accommodate them. Luckily for you, we've done some legwork already – doing the research so you don't have to.
Below, we give our recommendations for the top travel trailer insurance companies as well as enlighten you about trailer insurance.
Keep reading.
What Is Trailer Insurance?
Trailer insurance is a cover for any trailer hooked to your vehicle for towing. This insurance is important as it covers your trailer so that you do not have to dig into your pocket in case of damages.
What Does This Insurance Cover?
Before choosing a company, it is important to understand what they offer in terms of coverage options. Coverage options may vary from one provider to another. If you are looking to insure your RV, it is important to know what type of trailer insurance is available.
Coverage options include:
Personal Injury Protection (PIP) [Medical Expense Coverage]
These types of policies cover medical costs for you and your passengers in the event of an auto accident, regardless of who is at fault. Therefore, if another driver runs a stop sign and collides with your trailer, you can rest assured knowing that these costs will be taken care of.
Collision insurance [Collision Insurance]
If your travel trailer experiences physical damage by colliding with an object or overturning as a result of an accident, collision insurance will cover those costs.
Uninsured and underinsured motorist coverage [Insurance for Damages from Other Vehicles]
This type of insurance protects your travel trailer in the event that you are involved in an accident with another driver who does not have car insurance – or perhaps one who has insufficient coverage – to pay for damages resulting from the accident.
It works similarly to the other types of auto insurance, where you select a monetary limit on what your trailer is worth, and if the damage from the incident exceeds this limit, you will have compensation through your uninsured/underinsured motorist coverage
Types of Travel Trailer Insurance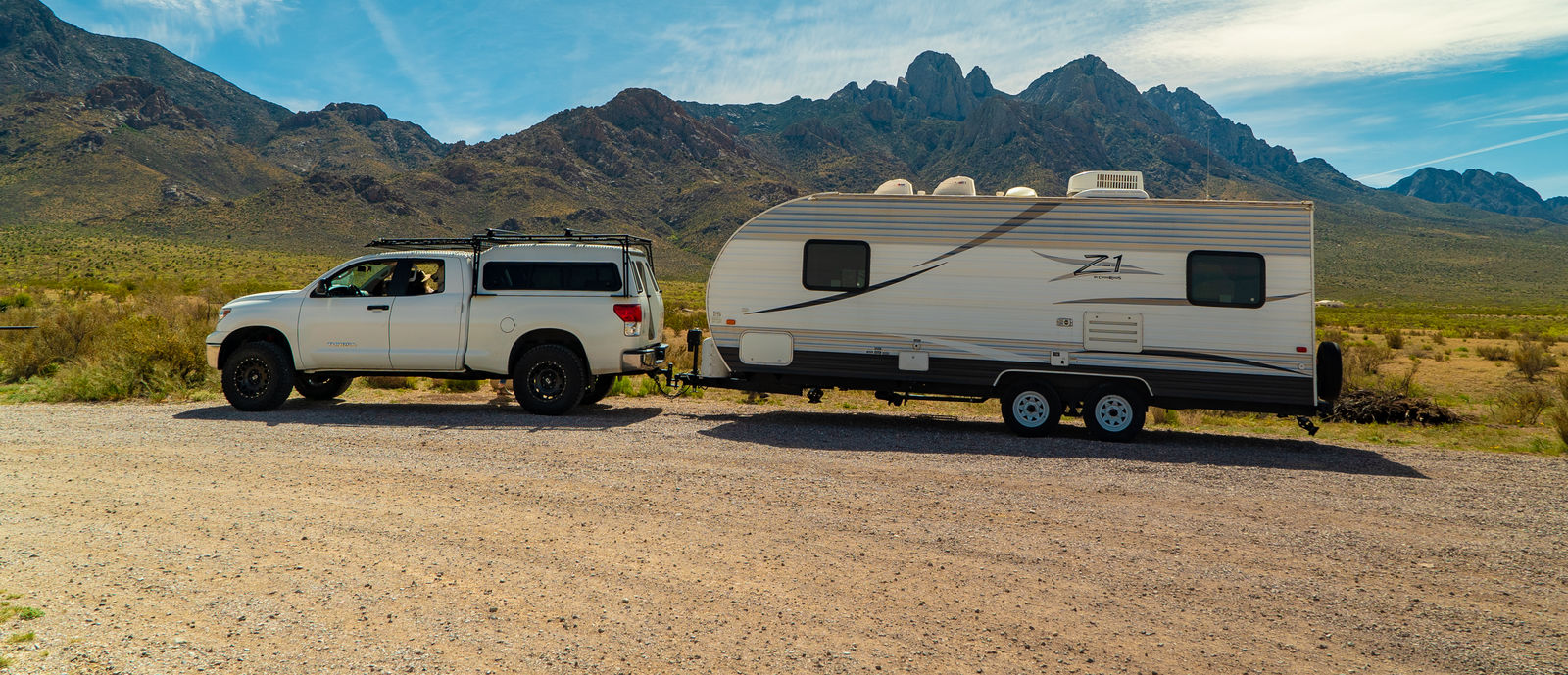 The following are some common types of travel trailer insurance options that can be purchased by an individual or couple. We've listed them in order of cost – from least expensive to most expensive. Some companies will ask for a deposit at the time of purchase, but many companies allow payments overtime via monthly installments with no penalties if repayments are missed – just keep that in mind.
Basic Options for Travel Trailer Insurance
Here are the basic travel trailer insurance policies offered by most groups.
1) Liability Coverage
The obligation to others may not be as extensive as other options; however, this is likely the most important coverage to purchase. It covers the cost of bodily injury or property damage that one may cause others during the course of their everyday life and could be considered negligence, such as an accident at home or in a vehicle.
2) Comprehensive Protection
This type of insurance will cover replacement costs for any damaged equipment within your trailer as well as gear lost as a result of theft, natural disasters and much more.
3) Medical Coverage
For those who may not have medical coverage or do not wish to receive reimbursements from their own personal policy, this is where you would need to look to protect you and your loved ones against any unexpected medical expenses resulting from illness and accidents.
Depending on your individual needs, travel trailer insurance can offer either basic benefits or comprehensive protection.
Full Protection for Travel Trailer Insurance
If you are looking for protection beyond third party liability and basic coverage, the following options could be what you are after. If your travel trailer does not already have these features included as part of its value, it is worth considering adding them to your policy. Such options may include:
New for Old Replacement (instant replacement cost)
Valuables Coverage
Personal Belongings Protection
Trip Interruption Benefits  
Emergency Expense Benefit 
Damage to Tires & Wheels
Worry-Free Security
Only the last three would be considered 'additional' benefits to cover any additional needs should they come up, but beware – these policies also carry additional fees, so be sure to compare your needs with the price before making any final decisions.
How Do You Get The Travel Trailer Insurance?
Once you have decided on who is going to provide your travel trailer insurance, it is time to get started. You can apply for coverage in three different ways:
Online
Over the phone
In person
Most people would prefer an electronic application process because it's quick and easy – however not all companies offer digital forms so in this case, a traditional over-the-phone application could be an option too.
Many insurance companies have representatives available 24/7, so being able to call at any time of day would ensure there is no interruption between when you decide you need coverage and when you can get it.
You might even find that some companies offer in-person applications where you could meet with a representative face to face. This option is not always available though, so be sure to check before wasting time driving somewhere.
How Much Does Travel Trailer Insurance Cost?
As mentioned above, there are different types of coverage options with varying price tags attached. How much money you end up spending on travel trailer insurance will depend largely on what type of policy you choose and the age of your trailer (for obvious reasons).
To give an idea of typical costs, most policies range between $300-$1000 per year or $30-100 per month for full protection, but again – these statistics vary considerably depending on your individual needs and requirements.
Be sure to do you research and shop around for the right policy at the best price.
Can You Use A Travel Trailer Without Insurance?
Yes, you can use a travel trailer without insurance. But, once you get into an accident (even if it's not your fault) and damage another person's property or hurt someone else, then you may be responsible for that cost and any other related costs such as personal injury protection, medical payment coverage, uninsured motorist coverage, bodily injury liability coverage and underinsured motorist coverage.
So, at the end of the day, you could be at a loss using a travel trailer without insurance.
If you were simply on a tight budget then we would recommend shopping around before committing to a company.
If you are not sure how much coverage you will need then here are some general guidelines to help you shop for travel trailer insurance on a budget:
Medical payments – extremely important, consider including this in your quote no matter what other types of coverage you get.
Liability – usually included at minimal cost with medical and full-timer so if these are both already covered it could be worth getting something else just to have extra protection.
Comprehensive – there are many optional extras available so if your motorhome is already a few years old and you want some additional protection then consider applying for this as well.
Collision – can be worth getting but expensive so it might be something you don't need to have unless your unit is fairly new or has been fully refurbished/updated (collision coverage only reimburses the cost of repairing your trailer).
Travel Trailer Insurance: Our Top Recommendations
These companies offer full protection (liability, comprehensive and medical coverage) for your trailer. They are the most expensive options but provide you with the best possible insurance package.
Many of these companies also feature discounts for low mileage driving, fire extinguishers within the trailer etc.
This is where most people tend to look since it provides them with everything they could be looking for in one policy.
1. Camping World Financial Services
Ah yes – our good friends over at Camping World will insure your travel trailer up to $100k so long as it weighs less than 14,000 pounds. Insurance for this company is an additional $60 per year on top of your homeowners or RVs insurance policy.
2. Trailerboss Trailer Insurance
Trailerboss offers almost identical travel trailer insurance to Camping World with the same weight limit at a price of only $50 per year. They also have very competitive rates if you are looking for further protection after your initial purchase.
3. UsTrip's Insurance
The company provides relatively inexpensive travel trailer coverage that matches Camping World and Trailerboss in terms of liability protection but does not include comprehensive or medical coverage. At less than half the cost of Camping World, USTrip's Insurance is one of the cheapest options on our list.
4. AceCampers Insurance
AceCampers will insure travel trailers up to 12,000 pounds with the same liability coverage option as above at a price of $45 per year. Note that if you are looking for comprehensive or medical insurance, this company does not offer them – only liability coverage.
5. Road Bear Travel Trailer Insurance
Road Bear offers all 3 coverage (liability, comprehensive and medical) for travel trailers but requires policyholders to carry full-timer coverage at $1 per day. Their insurance is ideal for those who are required by their insurer to carry full-timer coverage anyway.
When choosing an insurance provider to take care of your needs as a traveler, it is important to find one that suits both your individual requirements as well as your lifestyle.
Travel Trailer Insurance Discounts
All other companies offer discounts for having multiple units covered under one policy. After all, the more units you have insured on one policy – the less your insurer has to pay out due to a claim requiring a replacement unit.
Insurance Deductibles
As with any other vehicle, you will be required to pay something known as a deductible when filing a claim which is basically an amount that needs to be paid out of pocket before your claim can be processed.
Usually this is pretty small but it differs from state-to-state and company-to-company so just make sure to check what your individual deductible may be before filing a claim.
Trailer Insurance Pros and Cons
Here is a quick review of the pros we see with insurance companies:
Very affordable for those looking for high-quality coverage
Comprehensive, medical and liability protection available
Includes full-timer (full time snowbird) insurance as well as roadside assistance, which is unique to this company.
Below are some of the observable cons with some companies; they are relatively minor in our opinion but worth looking out for as you shop around for the right insurance cover for your travel trailer:
Some may offer travel trailer only – won't insure your motorhome/5th wheel/popup so you need to buy separate policies through different companies if you want all 3 covers at once.
Some state minimums may not be met without purchasing additional coverage so check before filing a claim to avoid any issues.
Most companies will have deductibles; just be aware of this before filing a claim.
Is It Cheaper To Insure an RV
There have been several "Is it cheaper to insure an RV" questions from readers so we have decided to dedicate a section of this article to discussing this topic.
The cost will vary depending on your state, the type of coverage you choose and how much your current travel trailer/motorhome weighs but as a rule, here is how much insurance should cost for different types of trailers:
For a 3k pound towable, expect a yearly premium between $300 and $350. A 5k pound policy with full-timer or medical coverage would be pricier – closer to $400-$500.
Most 10ks weigh less than 11,000 pounds so they will probably fall somewhere between these two prices.
If you have a heavy unit you will need to add the weight of your tow vehicle so expect another $300 if it weighs around 4,500 pounds.
In our experience, the company with the cheapest travel trailer insurance is USTrip's but their rates can still be pricey compared to other types of insurance.
Therefore, if you are looking for something affordable then we recommend going with Trailerboss instead regardless of whether your RV is 10k or 3k pound because they charge less regardless.
just make sure to watch out for any state minimums which will increase your cost…if this concerns you then check out USTrip's prices and compare them to Trailerboss' – there might not be much difference after all.
Does My Auto Insurance Cover My Trailer?
Unfortunately, most auto insurance companies will only consider a towable to be a covered risk if it falls below their state's weight minimum. That means that anything weighing more than the limit they set (most states use 10k pounds as the cutoff point) will not be eligible for standard coverage.
Does Your Homeowners Policy Cover Your RV?
Regrettably, most homeowner's policies do not cover an RV while it is being towed nor will they protect against any incidents that occur while towing such as accidents or mechanical failures.
If you are looking for just liability coverage then this may be enough but if you are looking for anything more extensive than this then we recommend checking into getting a travel trailer insurance policy.
These policies are typically very affordable depending on the type of coverage you require so there is really no reason not to have one.
Does My Homeowners Or Renters Insurance Cover My Trailer?
The same rule applies – in order for your trailer to be covered by your home owner/renters policy they will need to make sure it's under 10k pounds and possibly even 11k (the higher the weight, the less likely it is to be covered).
What If If I Hit My Own RV with My Car
There's no legal obligation to pay for any damages that occur if you accidentally hit an empty travel trailer with your vehicle but we do recommend adding collision insurance anyway because there will probably still be some repairs needed even if the inside of the trailer was empty at the time.
Points to Note about Travel Trailer Insurance
Be sure to check with your local authorities before you go on holiday, as some countries require that you have insurance coverage in place before you are allowed into the country.
If your trailer doesn't already have wheel locks, they can be fitted by many companies, so make sure this is taken care of too.
Be aware that most policies carry exclusions for certain countries or regions – if you plan to visit any of these places then it would be worth checking whether your policy covers them or not.
Some travel trailers come pre-covered as standard for a limited period of time (typically six months) however this will likely need renewing once expiry comes around – it's important to note that buying an extended policy can be much more expensive than simply renewing the term.
As with any insurance policy, check the terms and conditions to find out what is covered – overpaying for a service that doesn't even cover you fully is no different to being uninsured. There are many companies offering travel trailer insurance so just choose one that is right for you.  
Conclusion
Travel trailer insurance is not mandatory in most US states but most police officers will consider it a necessity when they spot what looks like an RV on the road. However, you are safer insuring your travel trailer so that in case of damages, you do not have to spend from your pocket.