It can be soothing and healing to be surrounded by nature. Going away to the forests or mountains is refreshing. Not everyone likes to camp in tents. This is where travel trailers come in. There are many reasons you will need a travel trailer that is under 4000 lbs. and the best ones too.
In this article, we will highlight some of the largest trailers weighing under 4000lbs. keep reading for deeper insight.
Why Choose A Travel Trailer Under 4000lbs?
A travel trailer under 4000 lbs. will ensure you have a cheaper vacation. People love cheaper but enjoyable vacations. The vacations are guaranteed to be classy and comfortable. The starting investment can be quite huge but it is a long-term investment.
Another advantage of travel trailers is the greater comfort that it provides. They have nearly all the basic utilities. They offer a cozy sleeping space, a built-in dinette, and everything you require for comfortable daily living.
Travel trailers under 4000 lbs. need lowly power to draw because they have average weight. Average weight puts minor strain on the engine and does not use additional fuel. This will lower the need for fuel leading to cutting costs.
Now that you know the advantages of travel trailers that are under 4000 lbs, this article will tell you about the largest, most durable, popular, and lightweight.
12 Travel Trailers Under 4000lbs
1. Venture Sonic Lite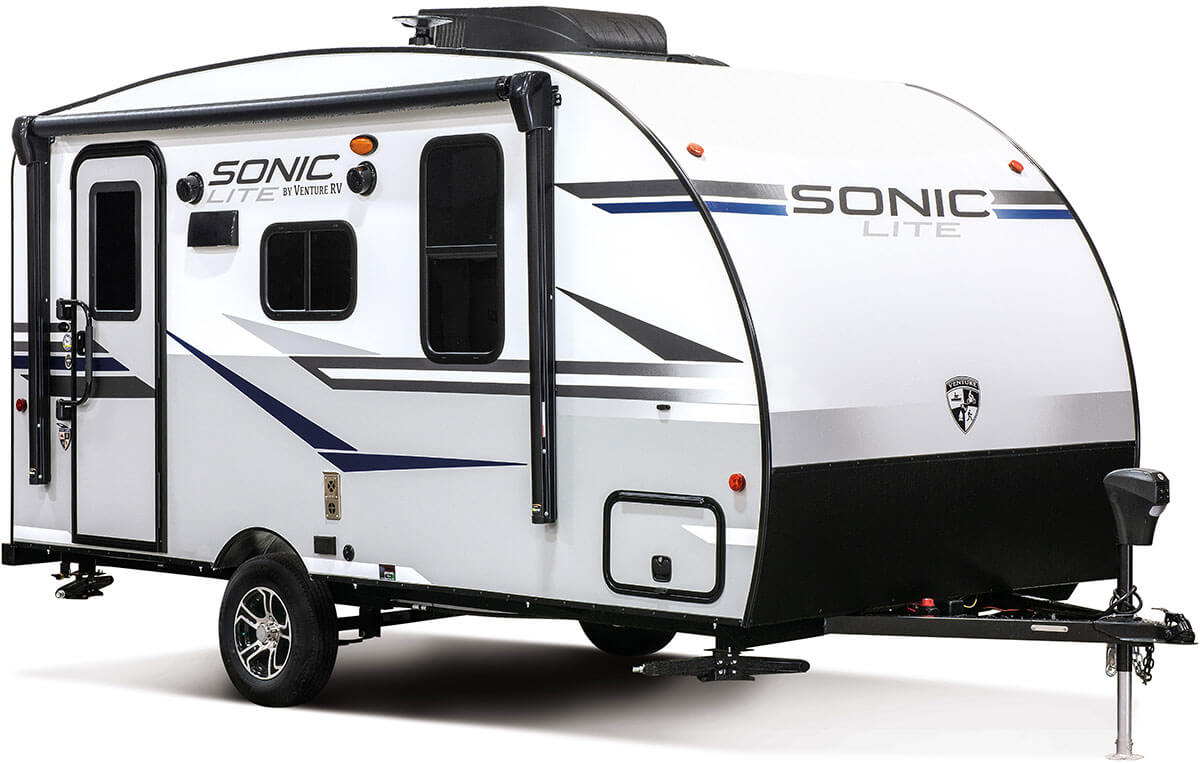 This is among the largest travel trailers the in the market that weigh 3040 lbs. Its features are impressive making it a favorite to most users. The best part of this trailer is its feeling of openness and space. Here, you will not be suffocated and confined since its layout and windows are clean.
The storages on the sides are pass-through for storing your entire luggage. To mount the Venture Sonic Lite travel trailer easily, you can use the flip-up solid steps. This, together with the well-built entrance frame, will give better support to old people when climbing up.
Additionally, the bathroom is luxurious, furnished, and has a wardrobe. The shower is 34-inch for both practicality and comfort making it the best option.
This type of travel trailer has a charging station and USB ports. It saves fuel better. There are seven floorplans to choose from. Its interior height is 6'10". The sinks are in large farmers' style. The stove is a 3-burner. Venture Sonic Lite travel trailer has a large refrigerator and a large freshwater tank.
2. Winnebago Minnie Drop
Winnebago Minnie Drop travel trailer has four floor plans and only three of them weigh under 4000 lbs. They include the Winnebago Minnie Drop 170s, 185DB, and 190BH. You will have exceptional choices from the floorplans. The smallest model of Winnebago Minnie Drop sleeps only up to three people but an upgrade of 190BH gets you enough space for four people.
The kitchen is a full setup, which has an oven and a 2-burner stove. The refrigerator's size here is smaller. The advantage that the Mini Drop has over the other trailers is that all the models have a television. This can prevent boredom while on long trips.
The bathrooms are dry and spacious with an exterior shower in all Minnie Drop models. This travel trailer has a 31-gallon tank of freshwater large enough for four people so you will never run out of water.
The interior height of the Minnie Drop trailer is 6'5". This is enough space but it might seem small for taller people. The features that this trailer has to offer are hard to find in the majority of the others. They are weather-friendly good for off-grid weather.
The Minnie Drop is built with beautifying plywood entirely with a frame engineered by NGX and an aluminum floor, which is reliable and durable. What you will have a home away from home experience when camping.
3. Coachmen Viking 17BH
When in the market for a large travel trailer, you will never be wrong with a Coachmen Viking 17BH. It is one of the best and popular travel trailers under 4000 lbs. It weighs 3716 lbs. Its interior design is stylish. The trailer manages to stuff most of the features in tight spaces.
The main bed is 54×74 inches. They have bunk beds too. Other features include outside speakers, a spacious bathroom, and a dry bath with a skylight, kitchen, dinette, power awning, tinted glass window, backup camera, and aluminum rims. The Coachmen Viking is truly everything you need for a getaway.
The cost of this travel trailer is efficient. This does not mean the comfort and quality are compromised. Towing this trailer is easy too even when you do not have any experience. The Coachmen Viking 17BH has electric brakes for safety. The exterior has a rear wall and a diamond plate for more protection.
The cabinets are dark ash with a sticking residential grade linoleum, interior lighting, coated countertops, and nice cushions. Its kitchen is nicely fitted, with a 2-burner stove, a refrigerator, and a microwave.
4. Lance 1575
Lance 1575 is among the largest travel trailer weighing 3700 lbs. This travel trailer is the best choice for a family of four. The rooms are considerable compared to most of the trailers of the same size.
The ceiling, walls, and floor are aluminum-framed making it very durable. The ceiling is a one-piece. The skylights are used for light during the day. The cabinet doors are made of Lite-Ply material to make them light and strong.
The travel trailer is insulated across it with block foam. There is a lamination on the floor and ceiling for insulation. The bathroom has a storage cabinet for toiletries, a shower curtain, a skylight roof, a detached showerhead, a wall-mounted rod to hold towels, and a mirror door.
The bedroom has a queen-sized mattress with throw pillows and innerspring. The Lance 1575 has LED lights in the bedroom to use if you like reading without bothering your partner.
The kitchen is nicely fitted and equipped with many appliances like a refrigerator, a three-burner cooktop, a sink, light, hood with fan, and a microwave. The storages areas are numerous outside and inside the trailer. For the best traveling experience, you could consider Lance 1575.
5. Airstream Basecamp
Airstream Basecamp is another giant in the travel trailer industry under 4000 lbs. It weighs 3500 lbs. It may seem smaller on the outside but the designers did an amazing job with it. This travel trailer is manufactured by a brand you can trust, Airstream. If you want a reliable and durable lightweight at a fair price, this is your brand. It has a large beautiful, functional, panoramic window on the front.
The Airstream Basecamp can disappoint you because it only has one option when it comes to floorplans. This should not be a problem since the design is beautiful and well-directed making it very functional.
The exterior of the Basecamp is extremely streamlined because of its shape making it good for saving fuel. It also has a rear hatch door. This aspect makes it stand out since it is not available in the majority of travel trailers out there.
You can also consider an upgrade to make it more personalized and convenient. There are options for air conditioning and heating systems to protect you from unstable weather conditions. It also offers three interior décor options (Glacier Lake, River Rock, and Red Rock) you can choose from.
Airstream Basecamp has a back-end lift to bring your outdoor fun gear like just having a bike with you. The kitchen is equipped well and functional with two USB ports, a sink, a two-burner oven, and a microwave. It has 22 gallons of fresh water. It also has a single tank with both black and greywater to save up for space.
6. Keystone RV Colt Travel Trailer
Keystone is a renowned brand as far as RVs are concerned. Their Colt 17RKCT is a tight trailer offering a wide range of features.
This travel trailer can accommodate up to four people. It has a dinette that can be converted into two beds. It also has a queen-size bed, which has a wet bathroom. The kitchen counter space is wide, with a refrigerator, a two-burner cooktop, and a microwave.
The roof is constructed with fiberglass making it durable with the capacity of carrying cargo. It also has outside speakers and an air conditioner.
The interior design used chestnut colors that offer a nice touch. This trailer will be perfect for your small family, friends, or couples who love getaways.
The Keystone RV Colt Travel Trailer's gross combined weight is 3860 lbs. and its unloaded vehicle weight is 3000 lbs. it has 36 gallons of fresh water, 30 gallons of gray water, and 30 gallons of black water.
7. Coachmen Clipper Cadet
Coachmen Clipper Cadet is the best travel trailer if you want the overall lightweight that has enough space and extra storage. It also has the best floor plan for you. This travel trailer has a 14CR floorplan that may accommodate three people but has enough area for other activities.
The small dining can fit up to four people easily but if you would like to squeeze together, it can hold six people. The large seats at the dinette have under-seat storage. Here, you can store all your gear.
The living area has more room for an additional sofa. You can improve the living area by getting a full-size wardrobe. This will ensure enough space for clothes and other things.
The kitchen has a two-burner stove, a small sink, and a countertop cover for extra space. The bathroom might not be spacious but it is dry and has a sunroof over both the toilet area and the tub.
The Coachmen Clipper Cadet has 27 gallons of water, which are enough for three people. The biggest disadvantage of this 14CR floorplan is that it does not have a specified area for the bedroom. Alternatively, the sofa and dinette can be converted to sleeping arrangements, although the convertible beds are not as cozy as the real mattresses.
8. KZ Sportsmen Classic
The KZ Sportsmen Classic is a simple travel trailer. Its length is 17 feet. It weighs 2800 lbs. By just looking at it, you may think it is small but five people can sleep in it comfortably, and there will be enough space left.
Its lightweight makes it easy to pull and drive in rough areas. You may have many options since you are considering this as an investment. The KZ Sportsmen Classic will offer you seven different floorplans you can choose from. It also has other features with will make fall in love with it.
Do not think that its quality is compromised and does not have whistles and all the rings because of its size or lightweight. It will shock you with all that it can offer. It has all the features you need in a travel trailer. This travel trailer features include a power awning to protect you from sun and rain. The air conditioning system is impressive with 8000 BTU. The furnace is 20000 BTU and 2 speakers. All these features make it perfect for a family of five.
This travel trailer has a spacious shower a queen-size bed and a large closet space.
9. Coleman Lantern LT Conventional
Coleman Lantern LT Conventional is also one of the best lightweight travel trailers under 4000 lbs. It is family-friendly stocked with bunk beds. It also has a dinette that you can use for sleeping accommodating two people.
Its family-friendly nature will ensure your privacy is maintained. It has blinds all over. You will have to choose either Mackinac Décor or a Shoreline Décor. This model has a residential-grade vinyl floor to make your vacation more comfortable and have a home away from home experience.
In the kitchen, you will find a well-sized functional kitchen with all the important appliances. They include a two-burner cooktop, a refrigerator, an exhaust fan, a microwave, and a range hood with a UV light.
Throughout the travel trailer, you will find full extension drawer guides. It also allows high up cabinets to put your belongings. The bathroom is complete with a galley fan, a shower curtain, non-power bath, foot-flush toilet, and sunlight for natural light.
Other features found inside Coleman Lantern LT Conventional include a 30 Amp power cord, power awning with LED light, 18000 BTU furnace, and 8000 BTU air conditioner among others. These features ensure will guarantee a comfortable stay for four people.
It also has Bluetooth stereo interior speakers and a solar charge connection. The glass windows are also tinted. The travel trailer weighs 2883 lbs. and its cargo capacity is 967 lbs. It has 27 gallons of fresh water, and 28 gallons of both gray and Blackwater.
10. Forest River R-pod
The Forest River industry produced an amazing travel trailer that costs and weighs lesser than almost all the other models. The amenities they offer are cheaper. Both the bed and the living are somewhat stylish and comfortable.
The most impressive thing about the travel trailer is the interior design throughout the camper. The cabinet has lumber and the finishing is classy. The glass windows are large and tinted for privacy.
This trailer travel can carry essentials weighing up to 882 pounds. You have to arrange the essentials well to avoid a messy look. It has 30 gallons of freshwater and Blackwater.
11. Jayco Hummingbird 17MBS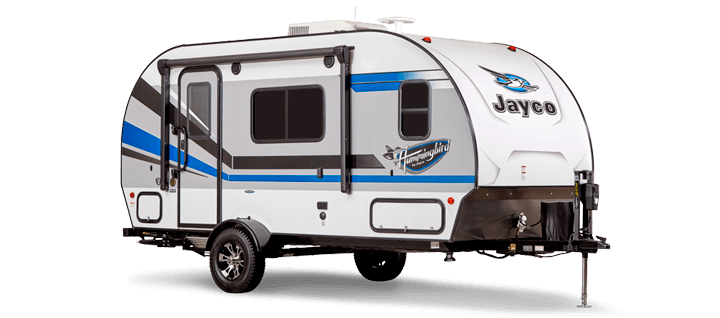 Jayco Hummingbird 17MBS travel trailer is among the list of the best trailers because of its incredible specs. It is spacious with a clear space in the middle. This helps bring the home experience to the camping sites.
The queen-sized bed measures 60×74 inches. It can be used as a sitting space too. The dinette can comfortably accommodate six people. The kitchen's width is the back of the vehicle's length. The window above the kitchen counter is sizeable for a beautiful view with a microwave and a refrigerator.
The TV screen will help if you are bored and would like to watch your favorite shows. Consider this model of travel trailer under 4000 lbs.
12. Palomino Palomini
The Palomino Palomini travel trailer has eleven different floorplans you can choose from to fit your needs and taste. It accommodates up to three people but you can upgrade to a larger floorplan. The upgrade has sleeping space for six people.
The sinks in this model have a deep farmer's sink making it easy when doing dishes. Once you are finished with the dishes, put your countertop cover on to recover your space.
Each shower and tub has in the Palomino Palomini has a skylight for elegance and comfort. Having enough water in the tubs and showers depends on the floor plan you choose. The smaller floorplans have 19 gallons of fresh water. The largest ones have 44 gallons of water that fits in under 4000 lbs trailer.
All the models of Palomino Palomini have enough space in the living area. It also has a detached master bed. The kitchen has a stove with two burners and a fridge.
Conclusion
There are so many great lightweight travel trailers in the market. You can get a top-notch trailer regardless of what you drive. Go through all the key features and choose what matters most. Take all the time you need and choose what works for you best. Whether you go solo or with family and friends, the travel trailers under 4000 lbs. are convenient, affordable, and comfortable for long trips.