When you are in the market for an RV, you should always check listings for used RVs in your state. Most used RVs will be in good shape while also being much cheaper than buying the same model brand new. You can even get lucky and find a hidden gem RV in near perfect condition. However, there are a few downsides to purchasing a used RV. For example, used RVs do not have warranties that cover repairs and damages. Furthermore, if you do not know what to look for, you can get scammed.
Luckily, we have compiled a list of tips that will help you figure out what type of RV will fit your family's needs. Along with our tips, we will also provide you with a checklist of 20 crucial things you need to look at when buying a used RV. Furthermore, our checklist will provide you with the information to ensure the used RV is worth the asking price.
What is the Best Type of RV for You?
There are seven distinct types of RVs that you should know about when looking to get one for your family. The seven types of RVs are put into two groups: motorhomes and towable RVs.
Motorhomes are all-in-one vehicles where the living area is connected to the driver's cabin. There are three unique classes of motorhomes that vary in size, shape, and appearance. The three classes of motorhomes include:
Class A Motorhome: This type of motorhome looks like a bus and has the most livable space available out of the three motorhome classes. Furthermore, class A motorhomes are typically the most expensive type of RV. However, a class A motorhome can comfortably live up to eight people, depending on size.
Class B Motorhome: This motorhome looks very similar to a large van. Class B motorhomes are the smallest of the three motorhome classes and will usually only live one to two people comfortably.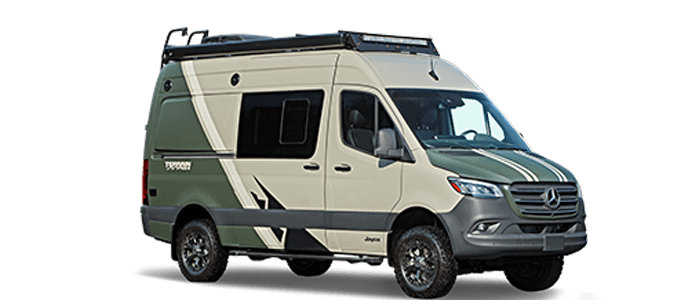 Class C Motorhomes: This motorhome looks like a modified pickup truck. Class C motorhomes have plenty of room to live up to four people comfortably and even have a small extension over the driver's cabin, which you can use for extra storage space or an additional bed.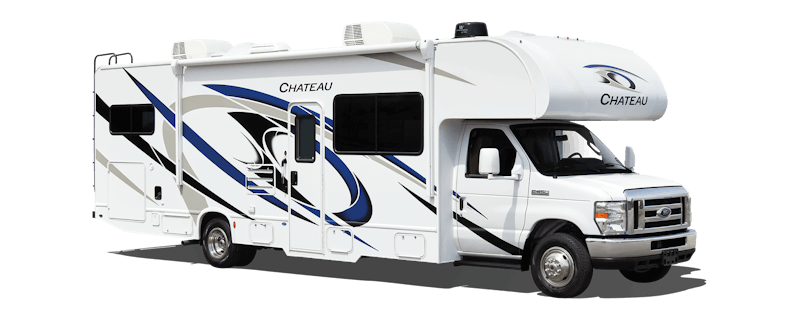 On the other hand, towable RVs require a separate vehicle to tow the RV with. Four distinct towable RVs vary in size, shape, and appearance. The four different types of towable RVs include:
Travel Trailers: These towable RVs can be very long, up to 45 feet, and can have tons of room to live in. Travel Trailers are the most basic form of a towable RV, which will require an additional vehicle to tow the RV with. Furthermore, a type of travel trailer called a teardrop trailer got its name due to its unique shape. Teardrop trailers are tiny and can only comfortably fit one or two people.
Fifth Wheelers: These towable RVs are the heaviest of the bunch and require a heavy-duty pickup truck to tow them around reliably. Furthermore, fifth wheelers use a gooseneck hitch instead of a traditional hitch that needs to connect to your pickup truck's flatbed. Fifth wheelers are the most expensive towable RV, but they are usually packed with luxury amenities and can expand, which will provide more room to move around comfortably.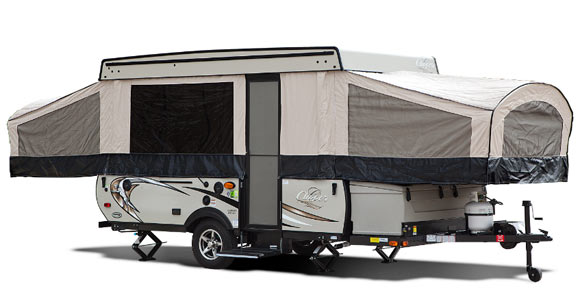 Pop-up Campers: These towable RVs are possibly the smallest. Pop-up campers are mostly canvas with some hard-shelled parts that make up the roof and floor of the RV. This type of RV folds up neatly into a small hard-shelled rectangle, making for much easier towing.
Expandable RVs: Many modern RVs can expand some compartments, which makes the RV wider, providing more living space. However, fifth wheelers and motorhomes that expand are usually all hard-shelled. "True" expandable trailers look like small travel trailers when traveling. But, once you set up camp, you will be able to expand the extra compartments made of canvas.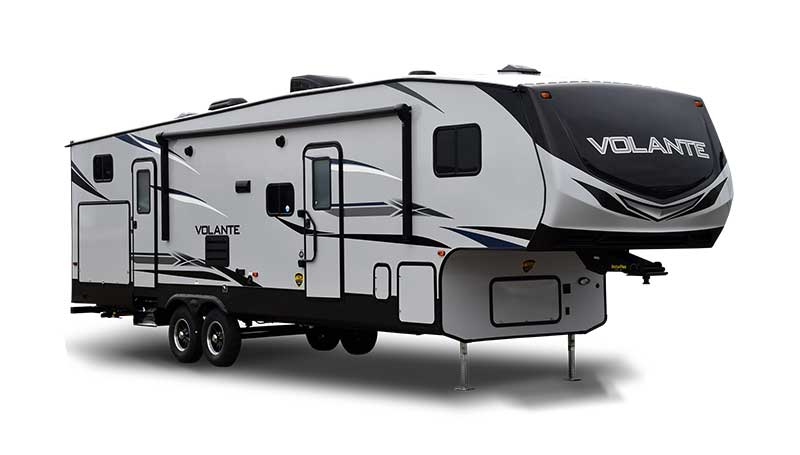 Each type of RV is better suited for certain occasions and what will be your primary use of the RV will help you decide on which one you want. All of the RVs we mentioned above come with an assortment of amenities like kitchens, bathrooms, bedrooms, and more. Depending on the type of RV you want and its size, you can have bigger or more of these amenities.
Each Type of RV has Tons of Models to Choose From
After deciding what type of RV you want, you can start looking at specific models. One of the downsides to buying a used RV is having a smaller selection of models to choose from. Unlike shopping at a dealership where you can buy any RV they have in their catalog, you are limited to the models that the owners have listed when buying a used RV. You can still find your dream model, even just by chance, but you have to be willing to drive quite far to get it.
That said, there are still a plethora of models you can choose from. Each RV model of the same type will have a different appearance, size, amenities, floor plans, and overall quality. Although when shopping for a used RV, it will be beneficial to have two to three main features that you want. Doing so will help you narrow down your search.
Look for a Suitable Floor Plan
Having the right floor plan to suit your needs is very important. While looking for the exact model you want will be difficult when purchasing a used RV, looking for the right floor plan can be even more challenging.
Each RV model will usually have several floor plans that can come with it. These floor plans can have subtle changes like resizing, or they can have different amenities altogether. For example, some floor plans will have a full-size kitchen but a smaller bathroom as a result, and the opposite can occur.
It can be beneficial to slightly ignore the floor plan of an RV you're interested in and only aim to get the right amenities you want. On the other hand, if you are more concerned with space, you can look for specific floor plans that match your needs while sacrificing specific amenities. However, if you have plenty of spare time, you can be a lot pickier and look for specific floor plans and amenities.
Buying a Used RV vs. Buying from a Dealership
Whether you buy a used or a brand new RV from a dealership, several things will change during the buying process, as each option will have its pros and cons.
For example, when buying an RV from a dealership, you can be very meticulous with what you want your RV to come with. Most RV dealerships will have a plethora of RVs that you can take a tour of on their property, which can provide you with a ton of insight on what exactly you want.
Furthermore, most dealerships will have a catalog that you can search through and order an RV model with a particular floor plan and amenities. Not only that, but RV dealerships will also provide you with a warranty that will provide discounted maintenance for faulty or broken parts. These warranties will either last a number of years or a certain amount of miles. The most significant downside to RV dealerships is you will be paying significantly more than a used RV of the same model.
While researching what RV you want for your family can take quite a long time, using that research time to look for a used RV can make buying an RV take longer. Most people who are experienced in the RV hobby will likely opt to look for used RVs rather than buy a new one from a dealer.
Your goal is to find a great RV that you and your family can enjoy for many years to come, and deciding whether to purchase used or from a dealer is a matter of preference. If you have plenty of time on your hands or don't want to spend a ton of money, try looking for used RVs. On the other hand, purchasing or renting from a dealership makes more sense if you only have a few months before an already planned vacation.
What are Some Good Websites to Look In for Used RVs?
There are quite a few online resources you can use to shop for used RVs. Websites like eBay and Craigslist are good places to look. However, there is another website that is dedicated to helping people buy and sell used RVs. RV Trader is a fantastic resource that is organized to allow you to easily search for specific brands, models, floor plans, sizes, and many other parameters.
Beware of Potential RV Sales Scams
Regrettably, some scammers will use devious tactics to either sell you a faulty RV or just steal your money. While you can still find good deals on Craigslist, there is no good way to check the seller's reputation like you can on eBay and RV Trader.
If you are using Craigslist or other websites to help you find a used RV, there is a common scam in which the seller will come up with some sad or touchy excuse as to why they cannot be available to show you their RV. When this happens, the scammer will likely ask you for a deposit which they will keep to "reserve" the RV for you. Do not fall for this scam. They will just keep the money and block your number.
Our Used RV Checklist to Use Before You Buy
When you find an RV that you are interested in, there are still a few things you need to do. We highly advise that you thoroughly inspect the RV to make sure everything is in working order, and there can be A LOT to look over. Here we have made a list of 20 things that you need to check before making the final purchase. Furthermore, we will provide you with a description for each item on our checklist, which will help you inspect the RV.
Engine (Motorhomes Only)
Hitch
Outer Walls
Doors And Windows
Roof
Slide Outs, Jacks, and Awnings
Vents, Fans, and Air Conditioner
Plumbing
Electrical Systems
The Kitchen and its Appliances
Gas Furnace
The RV's Undercarriage
Floors
Propane System
Entertainment Systems
All of the Buttons
Safety Equipment
Hazardous Materials and Allergens
Ask to see Proof of Ownership
Ask for Maintenance Records
Engine (Motorhomes Only)
If you are looking to purchase a motorhome rather than a towable RV, the engine will be the most important item on your checklist. The engine is by far the most expensive part of a motorhome and is equally more expensive to repair than any other part of the motorhome.
Unless you are an experienced mechanic, we advise hiring a mechanic to inspect the engine of the used RV that you are interested in. Suppose you are bringing a mechanic to examine the engine. In that case, you should also have them inspect the other major mechanical parts of the RV like the axle's alignment and wheel suspension, among others.
Hitch
Making sure the hitch is in working order is very important for towable RVs. The hitch on a motorhome can be equally important if you plan on towing a smaller vehicle to get around easier once you have set up camp.
When inspecting the hitch, look for signs of rust and erosion. A rusty hitch does not mean you can't use it. You can always clean the rust off and find a perfect hitch underneath. However, it can also be a good indicator that the previous owner has not been taking the best possible care of the RV.
Outer Walls
You want to inspect the outer walls closely for cracks, bubbles, bulges, or delamination. Furthermore, you want to check all of the seams to ensure the caulk and sealant are not peeling and still in working order. Make sure you also look for mounting screws and loose molding. Finally, you want to make sure the decals are clean.
Any part of the RV wall that looks damaged usually signifies that there is underlying damage.
Doors and Windows
When inspecting the outer walls, you should also check to see if the sealant on the windows is in good condition. You should also pay attention to the mesh bug screens and rubber gaskets on the windows. When inspecting these parts of the windows, spray some water on them and watch for potential leaks. If the windows have tint or film, check for cracks and delamination.
If any windows are double-paned, look for fogging or moisture in between the panes. If there is any fogging in the double-paned windows, there is a failure somewhere in the sealant.
After checking the windows, start inspecting all of the doors on and inside of the RV, including cabinets and drawers. While inspecting these areas, look for damage or missing hardware like hinges and screws. Make sure you check all of the latches to know they are in working order.
Roof
Alongside the engine and hitch, the roof is another important item on our checklist that you need to inspect. A leaky roof will lead to substantial damage to the interior of the RV. While inspecting the roof, look for any water damage under areas where you suspect a leak might be. If you find a leak, there might be mold or rotting interior walls in the surrounding area.
Repairing an RV roof can be very costly and takes weeks to fix. If you are uncomfortable properly inspecting the RV's roof, hiring someone to do it for you would be wise.
We have made a checklist to help you inspect the roof thoroughly.
Check the roofing material for cracks, rips, tears, and well-worn spots.
Remove all of the vent covers to inspect the seams under them.
Check all of the joints and seams for holes or cracks. Pay close attention to the front and back seams as these are areas where water will naturally form pools and cause leaks.
Using a hose, spray water on the roof and have someone inside checking for potential leaks while you are inspecting the gutters to see if they are in working order.
Remove the vent covers on the fridge and use a flashlight to check for any blockage.
Ensure all of the caulk and sealant are not too old or dried out.
Slide Outs, Jacks, and Awnings
Check the jack stand, awning, and slide-outs for corrosion, rust, or other damage. Make sure that these moving bits still have their full range of motion while listening closely for weird noises. Furthermore, you need to check the rubber seals on the awning and slide-outs for damage.
Vents, Fans, and Air Conditioner
You will need to remove the covers from the AC unit to inspect for water leaks from the roof gasket. You also need to make sure that the filter is in good condition. If the filter looks clogged, it shows that the AC unit has not gone through essential maintenance.
Ensure the vent fans are in working condition and inspect the mesh bug screens to see if they are set in place or dirty.
Check the condenser and evaporator fins on the roof for any signs of damage and to make sure they are not clogged. These fans should spin freely without any wobbling or squeaks. While inspecting these fans, look for the electrical wiring to see if they are correctly connected and look for damage and erosion.
Turn on the AC and let it run for at least 15 minutes before using an IR thermometer to measure the incoming and outgoing air temperature. Most RV air conditioning units will have a 20-degree temperature variation between the two.
Plumbing
First things first, check to see if there is water in the fresh water and waste tanks. If there is water in them, ask the owner how long the water has been in the tanks. Most of the time, previous owners will fill these tanks before you come to inspect the RV. But sometimes, negligent owners will forget to empty them, and you are about to find out if they are telling the truth.
If there is water in these tanks, check for possible leaks before emptying them. While they are emptying, check for discoloration in the water as it can be a sign of possible rusting.
If there is no water in the tanks, you will need to hook the RV up to the city water and fill them up. Once filled, check for potential leaks, then take the RV for a short test drive. Once you are back, check again for leaks before emptying the water while looking for discoloration and good flow.
While the tanks are full, it is an excellent time to check the rest of the water flow in the RV. Inspect the sinks, toilet, and shower for good water flow. Make sure the toilet holds a good amount of water in the bowl. Also, check the sealants on the showerhead, faucets, and toilet.
Next, you should find the external freshwater pump and inspect the hoses and wiring to see if they are in good condition. Then, run the pump to check for decent flow while also looking for leaks.
Finally, you will need to open the interior and exterior panels to inspect the water heater. First, inspect the wires and plumbing. After that, change the water heater into gas mode and inspect the burner flame. The flame should ignite quickly and be primarily blue in color. However, if most of the flame is red, orange, or yellow, it will indicate that the gas is not burning correctly and will need to be serviced.
Turn off gas mode and turn on the electric mode. Allow the water heater to fill up and get to a high temperature before checking the water pressure and heat of the water coming from the showerhead and faucets. Once done, you will need to open the pressure relief valve outside of the RV to verify if it is in working order.
Electrical Systems
When checking the electrical systems, the breakers are the first thing you should check. Please make sure they are firm when switched on and off and don't have any wiggle. Next, turn on all of the circuits and see if they get excessively hot. If any of them do, they will need to be serviced. Furthermore, you will need to check the 12 volt DC circuits to see if they have any blown fuses.
After inspecting the circuit breakers, inspect any and all light fixtures inside and outside of the RV. Make sure they are in working order and see if any of the light bulbs are showing signs of overheating.
Next, you should locate and inspect the battery bank for any corrosion. The wires on the battery bank should be in good condition. Next, use a multimeter to measure the voltage. It should be between 12.6 and 12.8 when not plugged in. If the battery is a lead-acid battery, you should use a hydrometer to get a more accurate reading. Once finished, check the label on the battery. If the battery is more than five years old, the battery will not last much longer.
Finally, check all primary power cords and outlets inside and outside the RV. The main power cord should not show any signs of defects or blemishes. You can use a circuit tester to check the outlets and ensure they are working perfectly.
The Kitchen and Its Appliances
You will need to inspect the kitchen appliances to make sure everything works. First, light the burners on the gas stove and make sure the flames are blue in color. Light it and check the flame's color if the RV has an oven. You should use an oven thermometer to make sure the oven is heating properly.
Next, inspect the fridge and freezer in both gas and electric mode. Use an IR thermometer to ensure the fridge and freezer are cooling correctly. Then go outside, open up the refrigerator access panel, and make sure everything is clean. Ensure the auto switch is working properly and inspect the drain hose for damage.
Gas Furnace
Make sure the RV's gas furnace ignites and heats up quickly. Next, inspect the fan and see if it spins freely without squeaks or wobbling. Next, make sure every output vent is clear and has decent airflow. Finally, open up the furnace access panel and see if the area is nice and clean.
The RV's Undercarriage
You will need to go under the RV and inspect its suspension and axle for fragmented parts or corrosion. You should also inspect the underbelly for corrosion. Check the tires and rims for any flaws, and be sure to replace any tires older than five years. Having a mechanic check will provide you with an accurate assessment.
Floors
While inside the RV, closely inspect the floors where they meet the walls. Look for any brown spots as it indicates mold and rot. Feel free to jump up and down in a few places to make sure the floor feels stable. Make sure you do this in the kitchen and bathroom as these areas use a lot of water.
Propane System
Ensure that the RV's propane gas system has been inspected and verified to be safe and working best. By law, this should be done before every sale. Also, check the age of the propane tanks since you can only reuse most of them for ten years before needing to be replaced. While inspecting the tanks, please take a close look at the rubber hoses, switchover valves, and regulator to make sure they are in good condition.
Entertainment Systems
Take the time to inspect all audio systems, satellites, TVs, and remote controls. Make sure the speakers produce a clean sound and ensure the outside cable input works.
All Of The Buttons
While going through the checklist, inspect all of the buttons and switches as you come across them. Make sure they are all working. If you can't tell what they do, ask the owner. Be sure that the brake and clearance lights work as well.
Safety Equipment
Closely inspect the smoke, LP gas, and carbon monoxide detectors. Verify that the RV has fire extinguishers and is up to date.
Hazardous Materials and Allergens
When inspecting the RV, make small talk with the owner and ask about pets. If you or anyone in your family has allergies, it is essential to know if you need to deep clean the RV. It is easy to tell if the owner has had pets in their RV due to the smell, but it never hurts to ask to be sure.
Ask to See Proof of Ownership
Before purchasing the RV, ask to see proof of ownership. By law, all RVs will have a bill of sale that the owner should have to prove they do own the RV. Furthermore, this bill of sale will need to be legally documented and is required to transfer the title and show proof of ownership to you.
Ask for Maintenance Records
When purchasing a used RV, you should ask the owner for maintenance records. Most owners who take good care of their RV will keep records that show their RV has been kept in tip-top shape. Furthermore, maintenance records can show you any recurring problems the RV may have.
Hire a Third-Party Inspector
Inspecting the quality of a used RV takes a lot of time and work. Making sure everything is working and in good shape can be difficult. Fortunately, if you don't think you can handle the job yourself, you can hire a third-party inspector to do it for you. A fantastic place to find an RV inspector is at the National Recreational Vehicle Inspectors Association or NRVIA, a website that we will link here. Their website will provide you with a list of reputable RV inspectors in your area who you can hire to inspect the quality of an RV from top to bottom.
NRVIA inspectors will be able to provide a very accurate assessment of the RV you wish to purchase. Hiring one of these inspectors will ensure that nothing is missed.
Final Thoughts
Buying a used RV takes a long time and requires a ton of commitment for your search. However, buying a used RV will always be cheaper than buying a new one from a dealership. Furthermore, with our tips and checklist, you will be able to check every minute detail that may require repair before purchase or further down the line. We hope that you found our guide helpful and that you will use it to help you find the perfect RV for your family.